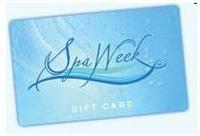 The Holidays are traditionally a time of added stress for many people says Cheryl Reid, CEO and founder of Spa Week Media and we're here to do our part in making this joyous time a healthier and happier one
New York, NY (PRWEB) December 2, 2009
Spa Week Media Group today announced the third installment of its Annual Holiday Gift Card Sale. What could be better than giving someone the Gift of Wellness? How about giving it while it's on Sale! Starting November 1st through December 22nd, consumers can purchase a $100 Spa Week Gift Card for only $80 on http://www.spaweek.com.
This promotion was specifically timed to coincide with the Holidays in an effort to spread some joy in addition to promoting the health benefits of spa treatments. "The Holidays are traditionally a time of added stress for many people says Cheryl Reid, CEO and founder of Spa Week Media and we're here to do our part in making this joyous time a healthier and happier one".
Spa Week Gift Cards are accepted at over 800 spas across North America, so consumers are sure to find a participating spa close by. Save money while the recipient - Mom, Dad, Brother, Sister, Wife, Husband or Friend -- can enjoy the benefits of a spa…a win-win situation for everyone.
With the Economy the way it is right now, the Sale takes on an added importance. People have been cutting back and could use a short break and nothing can put a smile on your face as quickly as a good relaxing massage or other spa treatment.
Spaweek.com is a lifestyle platform that incorporates the spa lifestyle with beauty, fashion, weddings, giveaways and travel. Over the years the Spa Week Brand has grown into a trusted, respected Brand that delivers content at a consistently high level of quality.
For more information, visit http://www.spaweek.com or call Lindsey at (212) 352-8098 - lindsey(at)spaweekmedia.com
###