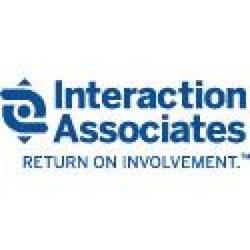 More than 2/3 of the people we surveyed spend at least 25 percent of their time in online meetings – about four hours each week
Cambridge, MA (PRWEB) December 2, 2009
Virtual meetings involving dispersed people connecting via technology and mostly online are here to stay — and so is the challenge of keeping people engaged while they multi-task during meetings.
In fact, a new business survey from Interaction Associates points to multi-tasking in meetings as the top challenge to keeping people engaged and focused — nearly three-quarters of those surveyed say the distractions of people caught up in several tasks at once interfere with meetings and impact their effectiveness.
Interaction Associates surveyed 200 business professionals about their issues and challenges with virtual meetings. The survey, conducted in Oct./Nov. 2009, focused on the challenges people face when leading or participating in virtual meetings; how often they met virtually; and the technology used to conduct remote meetings.
"More than 2/3 of the people we surveyed spend at least 25 percent of their time in online meetings – about four hours each week," said Linda Dunkel, President and CEO of Interaction Associates. "They report being frustrated regularly with distractions and with meeting participants busy multi-tasking with numerous other activities while attending a virtual meeting," Dunkel added.
Of those surveyed, 55 percent said that "building relationships" and "creating an engaging visual experience" were always or often challenging. The technology platforms were also challenges according to 44 percent (technical issues) and 42 percent of respondents (ease of use).
The Interaction Associates survey shows that tackling the challenges involved with online meetings can impact company performance and bottom line results. "Boosting the quality of meetings produces a ripple effect throughout an organization: higher levels of productivity, involvement and employee satisfaction," said Dunkel. "We have found that meetings are the first place to invest effort to create quick, highly-profitable gains in productivity and efficiencies that affect the entire enterprise," she added.
Download a full report featuring all survey findings and tips for successful online meetings at: http://bit.ly/62YE68.
About Interaction Associates:
Interaction Associates (IA) has 40 years' experience helping companies find breakthrough solutions to business challenges. IA's integrated management consulting and learning and development services have been used by Fortune 500 companies, government agencies and nonprofit organizations throughout the world. Interaction Associates helps these enterprises set strategic direction, inspire commitment, and build leadership capabilities, leveraging the power of collaborative action for long-term, sustainable results.
More at http://www.interactionassociates.com
This press release was distributed through PR Web by Human Resources Marketer (HR Marketer: http://www.HRmarketer.com) on behalf of the company listed above.
###