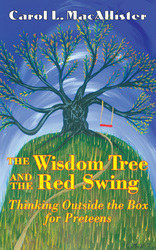 Learning to think for yourself is the most important lesson anyone can learn.
Brevard, NC (PRWEB) December 2, 2009
You hear it everywhere—how you think can change your life. Quantum physicists are proving it in their labs. But just telling people to think differently to improve their lives is of no help. Showing them how to think outside the box and to think for themselves is what Carol MacAllister, author, folk artist and counselor does.
The Wisdom Tree and the Red Swing teaches children, ages 9-12, how to examine a problem in such a way that the negative energy of the problem becomes positive and with that, solutions are discovered. The Wisdom Tree, an ancient 300 year old oak tree, speaks but does not give advice. Rather it asks the hard questions. Adults visit the tree as well and all are rewarded for the hard work of thinking when they hop on the Red Swing which gives joy to the heaviest of hearts.
The Wisdom Tree and the Red Swing subtly teaches the value of taking time to think through a problem and view it from a variety of perspectives in order to find a solution. It looks at such problems as bullying, race, being the new kid at school, obesity, boys' obsession with size, death and divorce, cheating and more. And it emphasizes qualities often missing in today's world—compassion, good manners and civility toward others. It helps kids understand how it feels to be different, isolated and ostracized. Finally, it shows children how to be open-minded and how adversaries can become allies.
This 192 pg book ($12.95) published by Take Charge Books is available through all on-line book sellers and can be ordered through your local bookstore. For more information on the author, go to: carolmacallister.com
###