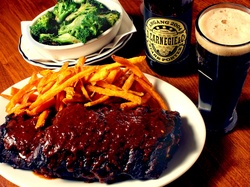 "We are proud to support the work My Friend's Place provides here in Hollywood," Lucky Vanous said. "Their efforts to provide tools to help our homeless youth succeed in life are a cause we firmly believe in."
Hollywood, CA (PRWEB) December 1, 2009
Lucky Devils announced today its plan to support local Hollywood charity, My Friend's Place, by creating a month-long fundraiser sponsored by the restaurant that will take place December 2009. This 31-day event will raise awareness about the increasing number of homeless youth that live throughout Southern California. A portion of every sale made at Lucky Devils during the month of December will be donated to My Friend's Place to help support the more than 1,800 homeless youth that pass through its doors with a variety of resources ranging from food, clothing, and showers, to transformative education and well-being services.
"We're excited to be working with Lucky Devils to raise awareness about youth homelessness in Hollywood and support for our services," Michael Kass, Director of Development for My Friend's Place said. "The holidays are a great time to come together in support for some of the most vulnerable members of the community. Working together, we can make a difference."
To kickoff the month-long event, owner and restaurateur Lucky Vanous, has created a tasty holiday special - Ribs and Chimay. The house-smoked BBQ Ribs are made spicy or sweet and are served with your choice of Jalapeno Corn Bread Pudding or Sweet Potato Fries for $16. Add Belgian Chimay, just $8 a glass, and refilled for just $6. Join Lucky Devils Monday or Tuesday and you can keep your Chimay glass (while supplies last). Bring an item from My Friend's Place donation list (http://myfriendsplace.org/donatewishlist.html) to put into Lucky's oversized stocking, and be entered to win a dinner for two at Lucky Devils ($50 value).
"We are proud to support the work My Friend's Place provides here in Hollywood," Lucky Vanous said. "Their efforts to provide tools to help our homeless youth succeed in life are a cause we firmly believe in."
About My Friend's Place:
The mission of My Friend's Place (MFP) is to assist and inspire homeless youth to build self-sufficient lives. Founded in 1988, MFP began as a volunteer-led, mobile meal program that distributed sack lunches to homeless youth in Hollywood. Today, MFP has grown to become the most frequently visited drop-in center for homeless youth in Southern California. Our primary goal is to lower traditional barriers to service and provide homeless youth the opportunity to improve psychological, intellectual, and physical capacity to reach their potential.
Each year, over 1,800 youth pass through our doors. They can access a wide continuum of services encompassing Basic Needs (food, clothing, showers, etc.), Transformative Education (employment and education workshops, creative arts programming, etc.), and Health and Well-Being Services (health education and clinical case management). All services are provided in a judgment free atmosphere of dignity and respect.
To find out how you can get involved with My Friend's Place please contact 323-908-0011 or visit its website, http://www.MyFriendsPlace.org.
About Lucky Devils:
Located in the heart of Hollywood, Lucky Devils is a hip and comfortable hotspot that offers artisan burgers, grilled pizza, and house smoked BBQ. Believing in the old fashioned way of preparing meals…from "scratch". But these aren't your grandmother's recipes. ……. Pecan smoked ribs w/ jalapeno corn bread pudding, 100% grassfed burgers with five pepper and green tomato relish and super secret sauce. And if that weren't enough, we brought you liege waffles from Belgium, and topped them with Tahitian vanilla bean frozen custard and salted Chimay beer caramel. Lucky Devils prides itself on using zero trans fat oil, sustainable, organic and locally grown ingredients whenever possible and our meats are free of hormones and antibiotics.
Beer lovers will be impressed with Lucky Devils eclectic beer selection, which features 14 artisan and favorite beers on taps and a list of over 30 bottles of great Belgium and other classics from around the world. The wine list includes organic, biodynamic, and Californian wines hand picked by owner Lucky Vanous, to complement and bring out the rich flavors of the food.
Lucky Devils is open seven days a week. Monday through Thursday 11:30 AM – 10:00 PM, Friday 11:30 – 12:00 AM, Saturday 12:00 – 12:00 AM, and Sunday 10:00 – 10:00 PM. For more information about Lucky Devils please contact Lucky or Stacy at (323) 465-8259. Lucky Devils is located at 6613 Hollywood Blvd., Hollywood, CA 90028. Website: http://www.LuckyDevils-LA.com. Email: LD6613@yahoo.com.
###