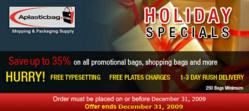 Aplasticbag offers digital printing with full color, superb image quality at three times the resolution of standard flexographic printing with no additional plate charges with a 10-day turnaround
Riverside, CA (PRWEB) December 01, 2009
Aplastic Bag carries a wide line of standard and recyclable plastic bags for every occasion, and with the holiday season upon us, businesses and end users alike can take advantage of significant savings on popular and functional models. With holiday promotions that abound for food, decorations, and even unexpected Christmas adornments like specially designed plastic bags for gifts or take-out portions for your dinner party guests, customers are preparing for the holidays without costing them an arm and a leg.
As a major distributor of plastic and paper products, Aplasticbag continues to provide superb retail and promotional products for a broad customer base. Trade show bags, retail bags, gift bags, and custom plastic bags are among a wide variety of plastic and paper bag products that Aplasticbag offers at both retail and promotional levels to customers all across the country. "Aplasticbag offers digital printing with full color, superb image quality at three times the resolution of standard flexographic printing with no additional plate charges with a 10-day turnaround", Mash Babaria of Aplastic Bag explains. In meeting the challenging requirements of customers and the environment, time and time again Aplastic Bag has been recognized as a leader in the industry.
With the highest quality, lowest prices, 100% customer satisfaction guarantee, standard and green plastic bags manufactured to customer specifications, no minimum order on stock items, and custom printed shopping bag minimums as low as 250, and the fastest turnaround time which can have your customized bags to your location as early as the next day, Aplastic Bag stands out head and shoulders above the competition. For more information contact Aplastic Bag at http://www.aplasticbag.com.
###