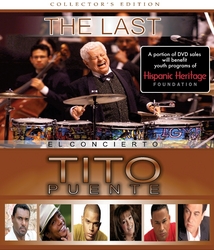 El Rey de los Timbales
New York (Vocus) December 1, 2009
Latin Quarter in NY to Host Launch of Effort Featuring Hottest Latino Artists and Personalities Celebrating Mambo King's Legacy
The Hispanic Heritage Foundation (HHF), Bissi Entertainment and Platinum Music Group announced today they are hosting a special event at the Latin Quarter nightclub on December 16, 2009 in New York City in honor of the legendary Tito Puente, who was known as "El Rey de los Timbales" and who was instrumental in promoting Latin Jazz and Caribbean music for more than 50 years. The event will also serve to launch a DVD of Puente's last performance in 2000, the year in which he died. The DVD will be available as of today for sale in stores across North America and Puerto Rico. Proceeds from the DVD sales will benefit HHF's youth programs. The event will feature performances from top Latin stars paying tribute to Tito Puente and raise funds for youth programs, which include educational scholarships. HHF has honored Puente with its prestigious Hispanic Heritage Award for the Performing Arts in 1994.
Performers include: Tito Puente Jr. and Friends, Alex y Fido. Other celebrities such as Marc Anthony, Luis Enrique, Omega, Grupo Mania, Jose Alberto "El Canario", have also been invited to participate.
"I'm thrilled my father's fans will be able to watch him perform again on the DVD," said Tito Puente Jr. "And I'm even more excited younger fans will be able to witness his performances. And it will start where my dad was born, lived and died – in New York City. I'm grateful to the stars who will be part of the tribute and more importantly, that the evening will benefit the Hispanic Heritage Foundation, which honored my dad with the Hispanic Heritage Awards and works year-round to move Latino youth forward through leadership, community service and education."
The evening will feature a Red Carpet from 7 - 8:30 p.m. and will open to the public at 9 p.m. Entrance fee will be $40.00 of which 100 percent will benefit HHF's mission (visit http://www.HispanicHeritage.org for more information.)
"It has been a privilege to have worked with Tito Puente and to know this great person. His performance in this concert -- and, in fact, in every concert he ever did -- speaks of Tito's character. He always gave it 110 percent. Knowing Tito and the lives he touched, including mine, said Platinum Music Records' President, Johnny Falcones. "I am sure would have asked me, "Johnny, how can we contribute to our hispanic youth?". The driving force has been the willingness to be there and to keep alive Tito's musical legacy alive. But also, to be sure, to keep alive his big-heartedness and deep desire to make a positive impact on the lives of Latino youth"
ABOUT THE DVD
Tito Puente "The last" defines the Latin music culture with its unparalleled visuals and sound and was filmed at The Manhattan Center in New York City on April 19th 2000, just weeks before Puente's death on May 31 of that year. This commemorative edition DVD is the last live performance of the "King of Latin Music" and he was joined by Jose Alberto, "El Canario" Tony Vega, Milly Quezada, Tony Swing, Tony Tun Tun, Sergio Vargas and the Eddie Torres dancers. The DVD was celebrating Puente's 77th birthday. The DVD was to be released on Nov 23rd by the platinum music group worldwide and distributed by Selecto Hits in the United States and Puerto Rico. The DVD will be sold in Walmart, Target, Best Buy, FYE as well as bodegas on the corner. Proceeds from the sales will benefit HHF's mission. (Visit http://www.PlatinumMusicGroup.net, or http://www.selectohits.com.
For more information:
Hispanic Heritage Foundation
(571)237-2290
http://www.hispanicheritage.org
###