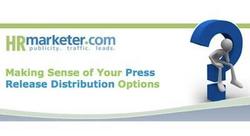 A news release needs to reach relevant journalists, bloggers, and potential buyers in order to build awareness. A release also needs to get online so it can be indexed, found and shared. No single tactic can accomplish these goals
Capitola, CA (PRWEB) December 1, 2009 –-
Traditional news wire releases. Search-optimized releases. Social media releases. The simple task of sending out a news release is not so simple anymore.
So many distribution choices are available for a press release that business communicators are overwhelmed with choices. To help companies understand their options and sort through the clutter, a complimentary article titled "Making Sense of Your Press Release Distribution Options" is now available from HRmarketer.com, a leading provider of marketing and public relations software and services.
The article, authored by Mark Willaman, founder of Fisher Vista, LLC, the company that owns HRmarketer.com, walks companies through best practices in news distribution and expands on the following tactics:
1. Emailing releases directly to a short-list of targeted journalists, including local and specialty media.
2. Emailing release to a short list of targeted bloggers (and if applicable, industry analysts).
3. Sending your release via an Internet wire service like PRWeb (who is distributing this release).
4. Posting the release to your Web site's news page.
5. Spreading the word about your news via social media networks.
6. Sending a release through a traditional newswire service, and the criteria to determine which releases rate major distribution.
"A news release needs to reach relevant journalists, bloggers, and potential buyers in order to build awareness. A release also needs to get online so it can be indexed, found and shared. No single tactic can accomplish these goals," said Kevin Grossman, president of HRmarketer.com. "Our latest article focuses on developing a well organized and executed news marketing campaign consisting of a number of different tactics."
The complimentary article is available to download at http://www.hrmarketer.com/home/wp_article_pr_distribution.htm
About HRmarketer.com
HRmarketer.com is a division of Fisher Vista LLC, a marketing software and services firm focusing exclusively on the human capital and healthcare industries. Through its marketing and public relations services, HRmarketer.com has worked with over 700 human resource and employee benefit service providers, helping them generate publicity, website traffic, sales leads and improved SEO.
Media Contact:
Elrond Lawrence
831-757-9100
elawrence(at)fishervista.com
This press release was distributed through PR Web by Human Resources Marketer (HR Marketer: http://www.HRmarketer.com) on behalf of the company
listed above.
###