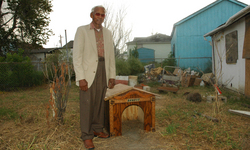 Mine will appeal to a very broad audience, not just animal lovers. It's a heart-wrenching yet ultimately inspiring meditation on race, class and the power of compassion
New York, NY (Vocus) December 1, 2009
Considered a profoundly moving meditation on the bond between humans and animals, Mine, distributed by Film Movement, will be released in theaters nationwide in January 2010, kicking off with bi-coastal premieres in San Francisco and New York.
Mine is a gripping, character-driven story, set against the backdrop of one of the worst natural disasters in modern U.S. history: Hurricane Katrina. The film follows New Orleans residents as they attempt the daunting task of trying to reunite with their pets that have been adopted by families all over the country and chronicles the custody battles that arise when two families love the same pet.
"Mine will appeal to a very broad audience, not just animal lovers. It's a heart-wrenching yet ultimately inspiring meditation on race, class and the power of compassion," said Adley Gartenstein, President of Film Movement.
Deeply disturbed by the startling images witnessed during the coverage of Katrina, and then hearing about the nascent but growing rescue efforts being carried out by animal lovers from across the country and world, Director Geralyn Pezanoski set out to document this incredible undertaking.
"As residents returned to New Orleans, after being barred from entering for weeks, it became apparent that legions of them – people who had lost everything – were desperate to find their pets," reflects Pezanoski. "I had a lot of questions about how and why this happened. I explored these questions and many more during the three years I spent making my film."
Film Movement discovered Mine during the South by Southwest Film Festival, where it won an Audience Award for Documentary Feature. By bringing it to theaters, and eventually to DVD, electronic sell through and rental, and Cable VOD, Film Movement hopes that the film will put a human face on issues far removed from most Americans, but that in fact affect us all.
About Film Movement:
Launched in 2003, Film Movement is a full-service North American distributor of award-winning independent and foreign films, based in New York City. Film Movement has released more than 150 feature films and shorts from 37 countries on six continents, including top prize winners from Sundance, Cannes, Venice, Toronto, Berlin, Tribeca and other prestigious festivals. Film Movement releases its films through numerous distribution channels, including theatrical, non-theatrical, home video, television outlets (such as Sundance Channel, HBO, IFC, Showtime), Cable Video on Demand and also In-flight Entertainment on Continental Airlines. For more information, please visit http://www.filmmovement.com.
Media Contact: Diana Iles Parker / Spoken Media / 415.388.8281
###