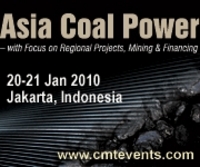 The conference will also focus on the growing domestic power demand in Indonesia. PT PLN recently predicted Indonesia's energy demand will rise from 272 TWh (terawatt hours) in 2009, to 325 TWh in 2018, and coal-steam power plants will account for 60 per
Singapore (PRWEB) December 2, 2009
Indonesia is the venue of an international conference on "Asia Coal Power" that will highlight the growing demand for power in Asia, Indonesia's growing prominence as the region's leading coal exporter, and the growing trend of vertical integration with power players investing in coalmines to ensure security of supply.
The conference convenes on January 20-21, 2010 at the Gran Meliá Hotel in Jakarta.
Spearheading discussions on emerging trends in Asia's power sector is Mr. Minesh Dave, Chief Representative (Indonesia) of India's largest IPP Tata Power. India has almost 8% annual power demand growth, and it's demand for imported coal is expected to reach 43 million tons because of short domestic supply. Mr. Dave will share on Tata's investments in Indonesian coal mines, and discuss the Project Feasibility & Challenges of Vertical Integration. Providing perspectives from the power sector, Mr. Dave will touch on opportunities, project development cycle, role of fuel, Risks and more.
In addition, China, which became a net coal importer in 2009, could drive up Power-station coal prices across Asia in 2010 because of the increasing demand and supply constraints. Invited to present an overview on the future of Chinese coal power projects at the conference is Mr. Hok Leung, Sr. Vice President (Corporate Development) at leading Chinese IPP Meiya Power Co. Ltd.
The conference will also focus on the growing domestic power demand in Indonesia. PT PLN recently predicted Indonesia's energy demand will rise from 272 TWh (terawatt hours) in 2009, to 325 TWh in 2018, and coal-steam power plants will account for 60 percent of the supply.
At Asia Coal Power, PT PLN & Indonesia's Ministry of Energy & Mineral Resources are slated to address the revitalization of IPPs involvement in Indonesia's next phase of coal power projects in their sessions covering the Liberalization of Indonesia's power sector, and the latest trends in Indonesia's domestic power markets. Also on the agenda, is a session by Mr. Bob Kamandanu, President Director of PT Berau Coal & Chairman of Indonesian Coal Mining Association on the Coal Mining Industry in Indonesia.
Other invited panellists at Asia Coal Power include senior representatives fromBhakti Energy Persada Group, Japan Bank for International Cooperation, PricewaterhouseCoopers, PT Coalindo Energy, Asia Renewables, Platts, Herbert Smith, Vinacomin, Coeclerici plus others. They will discuss competitive strategies of coal mining companies in a competitive landscape, coal pricing in Asia, project financing in a tight credit environment, tax and legal issues in coal mining investments, and key coal power markets outlook in China, India, Indonesia & Vietnam.
Asia Coal Power will play an important role in providing a platform for power generation and coal companies to meet, interact and establish business contacts and direct communications with the international delegation, local Indonesian coal companies, regional regulators, experts and many more.
Attend Asia Coal Power for Indonesia's mining law and its impact on the coal and power industry and investments.
Asia Coal Power is now accepting registrations for the conference, as well as enquiries on sponsorship packages, media partnerships and exhibition space. For further enquiries, contact Ms Lee Lin at +65-63469146.
###