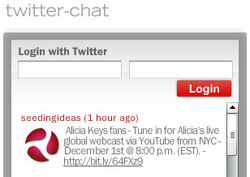 The application is taking online events a giant step forward towards being a truly virtual engagement
New York, NY (PRWEB) December 2, 2009
Innovative digital media network agency Pomegranate today announced the creation of a Twitter-Chat application that enables real-time engagement for online events such as live-streamed concerts. Users interact with each other in real-time via chat while simultaneously feeding updates to their twitter.com profile. Like the technology used during the popular YouTube U2 (October 2009) and Alicia Keys (December 2009) concerts, this application aggregates live Twitter feeds to create a community experience for fans at home.
Pomegranate's Twitter-Chat application is distinguished by a number of unique features:

Real-time chat experience – visitors of the online event can chat with each other in real time.
Two-way Twitter integration – The application not only posts updates to twitter.com, it also downloads relevant feeds associated with the event from twitter.com and displays them through the interface.
Versatility – The gadget is not limited to integration with Twitter; it can also integrate with other social platforms such as Facebook.com.
Self-service customization – The application includes an admin tool that allows administrators to customize the look and functionality of the interface.
"The application is taking online events a giant step forward towards being a truly virtual engagement," says Grant Powell, CEO of Pomegranate.
Pomegranate also announced the launch of a new marketing and advertising blog, "Pomeganda." The blog provides an exciting forum for Pomegranate's team of expert designers, writers and programmers to share their thoughts on emerging digital technology and trends. To learn more about this application and other cutting-edge digital technology, visit http://pomeganda.com.
About Pomegranate
Founded in 2009, Pomegranate is a new kind of agency that is redefining advertising and branding for the next generation of media and consumers. Pomegranate's unique "network agency" model unites a diverse array of experienced designers and programmers who work independently within the company's streamlined organizational structure and quality assurance system. The expert team provides a comprehensive array of creative services including strategy and positioning; design and branding for print and web; marketing and advertising services such as SEO, e-mail marketing, and specialty Google YouTube projects; and technology solutions such as hosting, ecommerce, and more. Satisfied clients include Toyota, Scion, Kraft, Canon, Nestle, Rock & Republic, and many other leading brands. For more information about Pomegranate solutions and services, visit http://pom8.com.
###