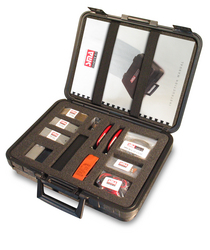 knowledge is garnered quickly through the hands-on experiments, and the detailed user manual included with the kit.
Medford, MA (Vocus) December 8, 2009
Imagine a future where the only tool in an auto body shop was a hair dryer! Or a damaged mail box could pop back into shape on a sunny day. A future where safety relief valves, such as sprinkler systems, would work every time. And a future of morphing surfaces, where submarines and aircraft could alter their shapes to improve performance over varying flight conditions. All of these scenarios are possible due to the amazing ability of shape memory alloys (SMA) to alter their state.
SMA Starter Kit's Contents
Shape memory alloys are a unique class of materials that possess the ability to dramatically alter their shapes based on heat stimulus. The material accomplishes this unusual feat through what is known as an austenite to martensite solid-to-solid phase transition - the transition temperature can range between sub-zero to over 100°C. There are many different shape memory alloys, the most common being nickel titanium. Nickel titanium offers dramatic shape changing abilities, and is capable of achieving strains as high as 15%, and 2% repeatedly, with the benefit of being robust, stable and non-corrosive. Nickel titanium is so non-corrosive that it is used for surgical implants in the human body.
The unique and powerful properties of shape memory alloys, and nickel titanium in particular, have the potential to add value to the Automotive, Aerospace, Industrial, and Bio-Medical industries. To assist these industries, along with educational institutions, in evaluating shape memory alloy materials for their products and technologies, Midé Technology, a Smart Technologies engineering company, has developed a low cost Shape Memory Alloy Starter Kit.
Chris Ludlow, Director of Engineering at Midé, says, "The SMA Starter Kit is a great tool, currently being used by Universities and Product Design research labs, that offers an introduction to the potential of shape memory alloys." He goes on to say, "knowledge is garnered quickly through the hands-on experiments, and the detailed user manual included with the kit."
The User Manual contains invaluable theoretical and product design information the engineers at Midé have developed over a number of years of working with SMA. The shape setting process is described along with a description of the tools required to perform the shape setting. Correct handling and safety instructions are also included. Information regarding the bonding of SMA is discussed and several experiments are described in detail to show the performance and potential application of both the sheet and wire material.
The Starter Kit contains all the tools required for the experiments, including three pieces of nickel titanium SMA sheet (0.02", 0.01" and 0.005" thick), three pieces of nickel titanium SMA wire (0.02", 0.01", 0.005"), heating element, 9v battery, 2 alligator clips, three pieces of spring steel (varying thicknesses) and other materials used to perform SMA wire actuator demonstrations.
So next time your car door receives a dent, picture the future where you watch the dent pop back out with the application of a little heat - any hair dryer will do!
If you'd like more information about this topic please visit our website (http://www.mide.com), or to schedule an interview with Conor Clery, please call Conor at 781/306-0609 ext 292.
###