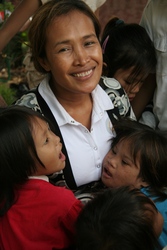 Trafficking thrives in the shadows, and it can be easy to dismiss it as something that happens to someone else, somewhere else. But that's not the case. – The average age of entry for prostitution in the U.S. is 13 years old.
New York, NY (PRWEB) December 1, 2009
Long Pross, a human trafficking survivor who was sold into sexual slavery at the age of 13, will be featured on the Oprah Winfrey show on Tuesday December 1st.
In the brothel that imprisoned her, she endured countless rapes, beatings, electrocution, forced abortions and having one of her eyes ripped permanently from her face as punishment for her resistance. 
This will be the second show of a two part series based on Nicholas Kristof and Sheryl Wudunn's new book, Half the Sky.  The book takes a hard look at the shocking human rights abuses and lack of opportunities that many women and girls face around the world. The slavery of young women and girls in the sex trade tops the list. The Oprah Winfrey show has established an online giving registry that is inspired by the books call to action and the recognition that women and girls will play a vital role in global progress. Secretary of State Hillary Clinton, George Clooney, Ben Affleck and Demi Moore will join Oprah and the authors to discuss human trafficking and other issues.
Through Long Pross' story, we get a glimpse of how millions of young girls have their lives so tragically torn apart. In her story we also see the courage and strength that she shares with other survivors that have been able to turn their personal pain into impassioned voices for change. 
Somaly Mam, a sexual slave survivor and the founder of the Somaly Mam Foundation, is helping Long Pross through her painful recovery. The foundation is currently in the process of identifying a doctor who will perform prosthetic eye surgery on Long Pross' missing eye.
According to the United Nations, over 2 million children around the world, some younger than 5 years old, are either kidnapped or sold to the sex trafficking industry every year.
In an average lifetime, that translates into 140 million children who will face these horrors. As a proportion of the U.S. population, that would be one out of every two people.
Human trafficking is not limited to developing countries – it is a serious and growing issue that is happening right here in the United States. In October, the FBI and local law enforcement rescued 52 children and arrested nearly 700 people including 60 pimps on charges of child prostitution. Just this month, Secretary of State Hillary Clinton called trafficking a grave problem in the U.S.: "Trafficking thrives in the shadows, and it can be easy to dismiss it as something that happens to someone else, somewhere else. But that's not the case." The average age of entry for prostitution in the U.S. is 13 years old. 
Modern day slavery and the sexual abuse of children is a global crisis. Survivors like Long Pross and Somaly Mam are determined to change this reality.
Nicholas D. Kristof tells Long Pross' story on his blog and in video:
http://www.nytimes.com/2009/01/04/opinion/04kristof.html?_r=1
More about Half the Sky:
http://www.halftheskymovement.org/
Follow Somaly Mam on Twitter:
http://twitter.com/somalymam
Join supporters on the Somaly Mam Foundation Facebook page:
http://www.facebook.com/somalymamfoundation
ABOUT THE SOMALY MAM FOUNDATION:
The Somaly Mam Foundation is a nonprofit public charity committed to ending modern day slavery around the world.
Human trafficking, a multi-billion dollar industry, is the fastest growing criminal enterprise in the world. With over one million women and children sold into sexual slavery each year, it is a global crisis that must be stopped. More resources are critically needed to support the rescue and rehabilitation of these young victims.
Founded by sexual slavery survivor, Somaly Mam, the foundation supports rescue, shelter and rehabilitation programs across South East Asia, where the trafficking of women and girls, some as young as five, is a widespread practice. The Somaly Mam Foundation also runs global awareness and advocacy campaigns that shed light on the crime of sexual slavery and focus on getting the public and governments involved in the fight to abolish modern day slavery.
Our Vision: A world where women and children are safe from slavery.
Our Mission: To give victims and survivors a voice in their lives, liberate victims, end slavery, and empower survivors as they create and sustain lives of dignity.
More about the Somaly Mam Foundation at:
http://somaly.org
###