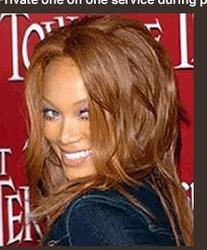 Hair Extensions is not Sew in Weaves.
Atlanta, GA (PRWEB) December 17, 2009
Hair Extensions of Atlanta, GA, http://www.hairextensionsatl.com, was voted Top Hair Extensions Company in the area for natural looking strand by strand Hair Extensions. Hair Extensions offers quality extensions at reasonable prices, allowing women to have fabulous looking hairs even with the current economy.
Hair Extensions of Atlanta believes the hair extension business is thriving because it is unique and caters to every hair type and to women of every demographic. Strand by Strand hair extensions can last 9-12 months with no damage to a client's hair. They are not sew-in weaves. Sew-in weaves is hair weaving not hair extensions. In investigating this subject, many salons state they do hair extensions but in reality it's sew-in weaves. Chris Rock did a movie on the secret of hair weaving. Clients in the know use strand by strand hair extensions. Secret Shoppers, checked for safe methods and found Hair Extensions of Atlanta uses only human hair in which it attaches hair extensions via the strand by strand method which provides no damage to users hair. There is no glue, heat or chemical used to break hair. Other methods users are aware of is called; hair fusion, cold fusion, and lace wigs. The key nugget for getting human hair extensions is the experience of technician. The secret shoppers preferred the companies that specialized in hair extensions and lace wigs. The secret shoppers stated specialist take 3-4 hours for hair extensions. Salons stating they take 6-8 hours don't do hair extensions on a regular basis.This is great news to all women who long to wear ponytails and updos. Sew-in weaves limit hair movement based on client testimonials.
Opening new locations in the Atlanta area will also build awareness in the African American community. Many clients are unaware that they could get strand by strand extensions and still use relaxers or color on coarser hair. Hair Extensions can address challenges such as hair thinning, alopecia, short hair and chemotherapy.
There are salons who charge half of the cost of the Buckhead Salons and Midtown salons for the same Hair. Secret Shoppers found full head hair extension prices were $3500-$5000. Hair Extensions of Atlanta starts a new client with a free consult and avg cost for a full head is $1250. The experience is very private and allows clients to understand the various options available to create a new and improved look. It only takes 3-4 hrs to put in a full head of hair extensions. According to a client named Cheryl, " This is the fun part. It's very exciting to look at your before shot and then look at your after shot." According to Kayla, she felt the hair took years off her life. Gail stated, "When a woman looks in the mirror each morning before work, if her hair looks great, she is off to a good start."
What's the maintenance of the hair extensions? The upkeep takes about 5-10 minutes a day, users can wash their hair as usual, flat iron as needed. Visits to the salon every 2 months for relinking.
What's the average cost of hair extensions, lace wigs and eyelash extensions? Hair Extensions of Atlanta, http://www.hairextensionsatl.com, prices are as follows and include hair, installation and cut and last from 9-12 months: $650- $1350 on average, full lace wigs start at $399 and eyelash extensions- full set (lash by lash) average $200-$250. They also have a full salon and spa available for every woman in Atlanta area. After the secret shoppers reviewed the cost of hair weaving and hair extensions, strand by strand hair extensions won was preferred. The benefits definitely out way the cost and restrictions of hair weaving.
In this economy, finding the best deal in town is important. Woman deserve to look beautiful and Hair Extensions of Atlanta is the place to go.
###