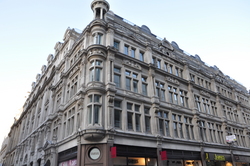 "This is an exciting opportunity for Clements and a milestone in this company's history."
Washington, D.C. (PRWEB) December 2, 2009
Washington, D.C.-based Clements International will open an office in London in 2010 to better serve and communicate with its European clientele, in addition to expanding its broker network. This will be the company's first European office, signifying an important step in fulfilling its mission to be a truly global insurance provider.
"This is an exciting opportunity for Clements and a milestone in this company's history," said President Chris Beck. "We already have a significant presence in Europe, so it's a natural progression to open in London where we can interact more closely with our customers and partners. We also look forward to introducing ourselves to new markets and delivering the same promise of integrity, experience and service we've kept since 1947."
Specific details about the office and important dates have not yet been announced due to pending regulatory approval. Visit clementseurope.com to learn more.
For additional information about Clements and the London office, contact Director of Marketing Michael Crossett at crossett (at) clements (dot) com.
About Clements International
Clements International is the leading provider of insurance for expatriates and international organizations. Founded in 1947, Clements offers worldwide auto, property, health, life and commercial insurance with superior customer service and claims response to customers in more than 170 countries. For more information on the global list of programs and services offered by Clements International, please visit clements.com.
###