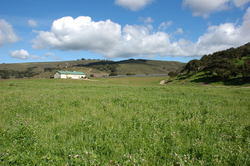 "Sideways Country" for Sale
Santa Barbara, CA (PRWEB) December 3, 2009
This 143 acre pastoral section of land is nestled in a private, quiet valley on a level road about two miles north of Highway 246 between the towns of Buellton and Lompoc in Santa Barbara County. It is totally within the Santa Rita Hills Appellation, known for its premium Pinot Noir grapes, and featured in the "Sideways" movie. This appellation is reputed to rival the finest vineyards in Napa and Sonoma with regard to premium grape production. This property has a developed 13 acre producing vineyard with 7 acres of Pinot, 4 acres of Chardonnay and 2 acres of Syrah. Around ten additional acres are level and could be planted with more fines, olives, or another crop. The park – like oak trees on the hillsides look down on the vineyard and panoramic views of the surrounding hills and peacefull valleys. There is even a glimpse of the ocean from one hill on the eastern side.
In addition to the vineyard, improvements on the property include a 3,000 square foot barn with a mezzanine, office, workers bathroom, and a very nice one bedroom apartment with a full kitchen, bathroom and living room. Purchase price will include most furnishings and farm equipment.
This property represents an excellent opportunity for someone looking for a long term hold, a boutique vineyard, or a country estate not far from town. It is offered by Kerry Mormann & Associates, the leader in ranch and estate sales in Santa Barbara County since 1976. They can be reached at (805) 682-3242 or at CoastalRanch.com.
###