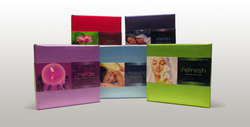 New York, NY (PRWEB) December 2, 2009
Tri-Plex Packaging Corporation sweeps three awards in the 31st Annual 2009 Package of The Year Awards sponsored by the NJ Packaging Executives Club.
This highly prestigious industry awards event featured 80 competitive submissions from 56 different companies. The dinner and presentation was held at The Hanover Marriott Hotel in Whippany, NJ on November 5, 2009.
The event is a celebration of cutting-edge packaging design and innovation showcasing the latest advances in creativity and technical excellence from a broad group of industries including Personal Care, Promotional, Food and Beverage, Pharmaceutical, Fragrance, Household, and Cosmetics. All proceeds from the event fund scholarships for the study of packaging.
Tri-Plex's entries in the Promotional category won the top Gold Award for Avalon Spa which was also recognized for a special award in the Technical Merit category. Tri-Plex's Howdy Doody Special Collectors Set package won an Honorable Mention in the same category.
Ken Golden, President and chief creator at Tri-Plex, said, "As a newer member of the NJPEC, I am extremely impressed with the organization. Spending time among this many innovative packaging professionals and leaders in the industry is truly energizing. As for the awards, to have our designs acknowledged is deeply rewarding. There were some really great packaging designs entered for consideration. I can't wait to bring the awards back to my team. I am very proud of our work and being a member of the NJPEC."
The judging of the competition was a lengthy and thorough evaluation by a committee of seven industry veterans from Avon, Pfizer, Hartz Mountain, Estee Lauder, Coty, Elizabeth Arden, and Victoria Secret.
About
Tri-Plex Packaging Corporation:
Since 1990, Tri-Plex has been creating unique packaging that helps build brands and add value to products for some of the most recognized franchises in the world. To learn more about Tri-Plex, please contact their NY sales office @ 212-481-6070 or visit their web site @ http://www.tri-plexpkg.com.
NJPEC:
Founded in 1962, The NJPEC is an organization of packaging professionals from all disciplines in the industry, who share information and hands-on business experience. To learn more about the NJPEC, please visit their web site @ http://www.njpec.com.
###