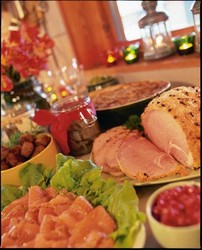 Conshohocken, PA (PRWEB) December 2, 2009
It's that time of the year again. The occasion to celebrate. Some good laughs. Friendly gatherings. And gastronomic pleasures. This year, why not take a road less traveled. Try something different. Go Swedish! Try the IKEA Julbord - all you can eat Smorgasbord - for only $15.99. And Kids 12 and under, eat for only $2.49. Most IKEA stores will have Julbord buffets December 11, but check your local store for accurate details.
The IKEA Julbord buffet is a scrumptious, endless food offering. So go hungry…very hungry… and bring your family and friends to the IKEA restaurant. There is Swedish holiday ham, smoked salmon, roast beef, potato casserole, Swedish style meatballs with ligonberries, assorted cheeses, crisp bread, gravid lax with mustard, sautéed sausage, poached salmon, liverwurst pate, assorted desserts, and so much more.
What exactly is the Julbord? It's a special type of smorgasbord which is the standard Christmas dinner in Scandinavian countries. Julbord is a word consisting of the elements Jul, meaning Yule (synonymous with Christmas) and Bord, literally table. The classic Swedish Julbord is the highlight of Swedish cuisine, a traditional smorgasbord starting with bread dipped in the ham broth continuing with the many offerings on the table. And it's yummy!
The traditional Julbord is eaten in three courses. The dishes include local and family specialties. The first course would typically be a variety of fish. The second course is cold sliced meats; the most important being ham. And the third course includes warm dishes such as Swedish meatballs, sausages, roasted pork ribs and more.
But at IKEA you can have any item you want, when you want it, and then go back for more. And where else can you feed your little ones for a mere $2.49. Check out IKEA-USA.com for your store details. We know you won't leave hungry!
About IKEA
Since its 1943 founding in Sweden, IKEA has offered home furnishings and accessories of good design and functional living solutions at prices so low that the majority of the people can afford them. Currently there are more than 300 IKEA stores in 37 countries, including 48 in North America (11 in Canada; 37 in the US). IKEA has been named to BusinessWeek's List of The Best Global Brands (August 7, 2006) and for four consecutive years, Working Mother magazine's annual list of the "100 Best Companies for Working Mothers." IKEA was listed in March 2007, on Fast Company's Fast 50, for its environmentally responsible products, as well as five consecutive years, Training magazine's annual list of top companies that excel at human capital development. IKEA incorporates environmentally friendly efforts into day-to-day business and continuously supports social initiatives that benefit causes such as children and the environment including UNICEF, Save the Children and American Forests. To visit the IKEA Web site, please go to http://www.IKEA-usa.com.
###