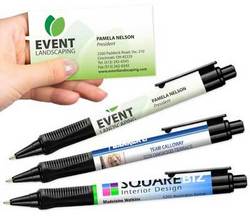 "A fantastic new application for business cards"
Poway, CA (PRWEB) December 2, 2009
National Pen (http://www.pens.com), a worldwide leading promotional products retailer announced today it is giving away 10,000 free business card pens.
"We have a new way to promote business that no other company in the industry can do, as we have created the technology to take a business card and apply the design on a pen. We have had a tremendous positive response from our initial product introduction, and we want to help small businesses promote their services through this giveaway," said Dave Thompson, CEO of National Pen.
Individuals may visit National Pen's free business card pen giveaway page at http://www.freebusinesscardpen.com, and either upload or mail in their business card. Owners of the first 10,000 cards submitted will receive a Contour pen with the business card image. The site will remain in existence until 10,000 requests have been fulfilled, and no business cards will be returned.
"We have had so many great responses from customers," Thompson continued. "We have created a calling card for the small business owner that ensures his/her services will not be forgotten. In fact, we are so sure that this product will be an effective marketing tool that we will not be charging for shipping, handling, or setup fees for the free business card pen promotion."
National Pen, an online retailer of promotional products, offers an extensive line of marketing materials including pens, pencils, markers, calendars, rulers, and many other assorted items. National Pen is the exclusive retailer of the contour business card pen.
About National Pen
National Pen offers customized promotional products to 20 countries across the world. We want to help market every business in every industry and in every location. Customers can order personalized products from the United States, Canada, Germany, Spain, France, Italy, Netherlands, Norway, Austria, Portugal, Switzerland, Finland, Sweden, United Kingdom, Australia, New Zealand, and Belgium. For more information regarding National Pen, please visit http://www.pens.com, or call 866-900-PENS (7637). National Pen is owned by the Berwind Company (http://www.berwind.com).
###