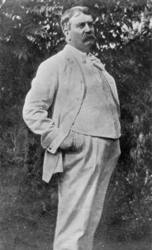 Few people realize how vast his accomplishments were, but Judith tells the story superbly and really gives Burnham his due.
Chicago, IL (PRWEB) December 2, 2009
As Chicago marks the centennial of Daniel Burnham's most famous achievement, Encyclopaedia Britannica is bringing its readers the story of how the 19th-century architect turned 20th-century urban planner left his mark on the city and the country.
Burnham (1846-1912) is well known as the principal author of the 1909 landmark "Plan of Chicago," also called the Burnham Plan, which helped give the city its modern form. But long before that he was a major force behind Chicago's dramatic 19th-century growth and the urbanization of America, as a pioneer of the skyscraper, architect of many of the country's most famous buildings and planner of the 1893 World's Columbian Exposition.
In a lively and extensive encyclopedia article about Burnham commissioned by Britannica for the plan's centennial year, author and Chicago architecture expert Judith Paine McBrien chronicles Burnham's life and career, presenting him as one of the towering figures who thrived in the boom years after the Great Chicago Fire of 1871 through a combination of pluck, luck and outsized vision.
Burnham was famous for his big ideas and ambitions, and beginning in the 1870s, with his partner John Wellborn Root, he brought many of them to fruition with bold solutions to the engineering problems of tall buildings, innovative organization of construction and a keen sense of modern urban aesthetics.
Burnham and his collaborators were responsible for many of the period's most important commercial buildings, including Chicago's Rookery and Monadnock Building, New York's Flatiron Building and Washington, D.C.'s Union Station.
Burnham was already famous when he was tapped to lead construction of what would come to be known as the "White City," the Columbian Exposition, the massive world's fair on Chicago's south side. Leading a workforce of 10,000 men, Burnham supervised the construction of about 150 buildings—including the transportation, water and sewage infrastructure—which was completed in just over two years.
That achievement not only enlarged Burnham's reputation but also stimulated his interest in the design of cities at a time when urban planning had not yet emerged as an organized profession. Planning engagements in Washington, D.C., and elsewhere prepared Burnham for the task of laying out the Chicago of the 20th century.
That plan, which Burnham co-authored with his young associate Edward Bennett, was in the Britannica article's words "a landmark in urban planning history."
Writes McBrien, director of The Archimedia Workshop and author of the "Pocket Guide to Chicago Architecture" and other books:
"It recognized the city in its context, not as an isolated collection of buildings but as an organic whole interconnected with and interrelated to its region. . . . Visionary yet detailed, the plan boldly confronted the complexities of the modern industrial city and argued that solutions could be found that would improve infrastructure, relieve traffic congestion, provide open space, and enhance the physical environment in lasting, meaningful ways for its inhabitants. Reserving the lakefront as public space was one of Burnham's major concerns and one of the plan's most notable accomplishments."
Britannica asked McBrien to tell Burnham's story in an engaging way and help readers appreciate his enduring significance. Dale Hoiberg, editor-in-chief of the Chicago-based publisher, said she succeeded.
"I have to admit we have a special affection for Chicago topics, because it's our home," said Hoiberg. "Burnham's name is all over the city, and most people here recognize it, but few of them, I suspect, realize just how vast his accomplishments were and what a lasting impact he had on Chicago and the whole country.
"Judith tells the story superbly, and really gives Burnham his due. She writes a lively narrative set against the history of that period, that I think all readers will enjoy, yet she includes enough substantive and technical detail about his work to satisfy engineering and architecture buffs."
About Encyclopaedia Britannica
Encyclopaedia Britannica, Inc. is a leader in reference and education publishing whose products can be found in many media, from the Internet to wireless devices to books. A pioneer in electronic publishing since the early 1980s, the company also still publishes the 32-volume Encyclopaedia Britannica, along with services such as Britannica Online School Edition and new printed products, which are available online at http://store.britannica.com. The company makes its headquarters in Chicago.
###