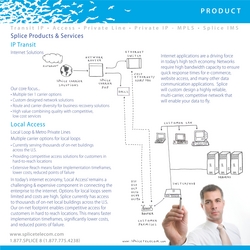 "We chose Splice as our provider because the reliability of their network is excellent," said OpenDNS Founder & CTO, David Ulevitch. "Not only do they deliver solid services, but they offer significant cost savings."
San Mateo, CA (PRWEB) December 3, 2009
OpenDNS provides comprehensive intelligent Internet navigation features including Web content filtering, security, phishing and malware protection services that rely on a rock-solid DNS service. Splice delivers high bandwidth solutions and is deploying Tier 1 internet carrier services that are designed to ensure OpenDNS's award-winning DNS platform is reliable for deployment of their intelligent Internet navigation features. The Splice network provided to OpenDNS helps maintain the company's stellar record of consistently handling more than 19 billion DNS queries per day with zero downtime in three years.
Andy Coan, CEO of Splice Communications, Inc., says "Splice is pleased to work closely with OpenDNS; a company that provides high-quality navigation services and network security for customers. It is rewarding for us to work with a company that provides mission-critical services based on cutting-edge technology to such a wide range of customers."
About Splice Communications, Inc.
Splice is a Network Service Provider (NSP) dedicated to delivering customized data solutions by leveraging the most robust network portfolio in the industry. Our business is based on the belief that every client, every employee and every action counts. Splice provides value through technical sales consulting, service delivery and customer care. With years of industry experience we provide insight into what is possible. Customers with mission critical applications require a company where long term viability is the focus. With Splice, customers rely on the fact that they are engaging with a provider whose financial strength is demonstrated through zero debt, substantial growth, high retention and outstanding customer satisfaction. At Splice, intelligent solutions encompass more than just network services. Splice, know your options.
About OpenDNS
OpenDNS is the world's leading provider of Internet navigation and security services that make networks safer, faster, smarter and more reliable. Through DNS resolution, cloud-based Web content filtering and security services, OpenDNS empowers millions of households, schools and businesses to control how users navigate the Internet on their network, while dramatically increasing the network's overall performance and reliability.
For more information, visit http://www.splicetelecom.com .
Media Contact - Carol Kimura, Director of Marketing, 650.577.2304 Ext. 2215
###