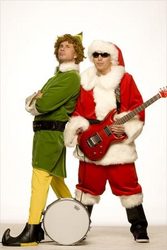 Medford, OR (PRWEB) December 2, 2009
In what has become a holiday tradition, music gear retailer Musician's Friend recently kicked off the Christmas season by revealing two iconic rockers—guitar virtuoso Joe Satriani and drummer Chad Smith of Red Hot Chili Peppers—who will respectively grace the company's holiday catalog cover as this year's Rock 'n' Roll Santa and his elf "Buddy." The company's exclusive behind-the-scenes video documents the photo shoot with an insider's glimpse into this rockin' duo who teamed up with Van Halen alums Sammy Hagar and Michael Anthony earlier this year to form Chickenfoot, and have been rockin' the concert circuit ever since.
Noting his striking resemblance to actor-comedian Will Ferrell, Musician's Friend convinced Chad to reprise Ferrell's role as "Buddy" from the movie Elf. On the catalog cover, Smith wields his Pearl Chad Smith Signature Snare Drum, while Joe Satriani brandishes the Ibanez JS1200 Joe Satriani Signature Guitar.
Musician's Friend offers a wide range of music gear associated with Chad Smith and Joe Satriani including guitar pedals and effects, drumsticks, cymbals, and more at special sale prices. Customers are also invited to sign up and receive FREE Musician's Friend catalogs.
About Musician's Friend:
Musician's Friend, Inc. is the world's largest direct marketer of musical instruments and has been headquartered in Medford, Oregon, since its inception in 1983. With more than 58,000 unique products for sale, the company covers a wide range of musical needs, including guitars, basses, amplifiers, keyboards, live sound, recording equipment, drums, percussion, woodwind, brasswind, and orchestral stringed instruments, as well as related accessories that are marketed through its print catalogs and websites, including musiciansfriend.com.
The Musician's Friend website also offers informative musicians' resources, including in-depth buying guides, tech tips, hands-on gear reviews, articles from highly respected music industry professionals, interviews with well-known artists, and over 450,000 customer-written product reviews and ratings.
With warehousing in Kansas City, Missouri, and a call center in Salt Lake City, Utah, Musician's Friend can be contacted at 800-776-5173 or by visiting http://www.musiciansfriend.com
Musician's Friend is a wholly owned subsidiary of Guitar Center, the world's leading retailer of musical equipment.
Questions regarding this press release should be directed to contact(at)musiciansfriend.com.
###