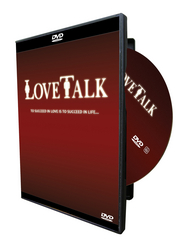 To succeed in love is to succeed in life...
Los Angeles, CA (PRWEB) December 7, 2009
A new feature documentary film aimed at providing a resource to those who want to take responsibility for making relationships in their lives work or want to understand why they are not is now available. LoveTalk explores how men and women are drawn together; communicate with each other, and how loving and lasting relationships can be made. Seventeen of the world's most renowned relationship experts provide insight into the dynamics of human relationships and the common mistakes that can lead to breakdown.
Filmmaker Trudy Sargent set out to make a powerful and inspirational documentary that would explain how great relationships were made and survive, even through the worst of times. "We are not aware of the importance of intimate relationships and how they form the foundation for our lives. I wanted to create a sort of guide, a practical film that will provide the knowledge and understanding of how to create beautiful and passionate relationships," said Sargent. She enlisted the help of love and relationship experts such as John Gray (author of Men Are From Mars, Women Are From Venus), Helen Fisher (Professor and member of the Center for Human Evolutionary Studies at Rutgers University) and Rabbi Yaacov Deyo (creator of SpeedDating) to give advice and insight into the complexities of human relationships and how to overcome conflicts and miscommunication. "Many couples are going through some rough times at the moment with unemployment, money issues, and power dynamic changes within a relationship. If relationships weren't strong to start with, these external situations are making them worse. This film teaches you how to navigate the dynamics of relationships and ways to make attraction and polarity blossom into a successful bond," said Sargent.
The website for LoveTalk has just been launched at http://www.lovetalkmovie.com and includes clips from the documentary plus weekly audio downloads from the experts on subjects such as "What do men and women want in relationships?" Each week will feature a different topic and visitors may listen for free. A DVD of the film is available for purchase via the website as well. "Whether you are single and looking for a partner or considering divorce, this documentary will arm you with the knowledge you need to transform your relationships and your life," says Sargent.
###