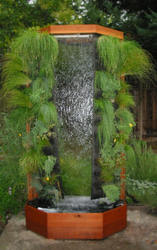 "We have taken the vertical garden to a new level with the WaterWall Garden. The waterfall vertical garden is a very dramatic presentation."
Monterey, CA (PRWEB) December 3, 2009
Harry Biba, Co-Founder of Vertical Gardens, LLC which makes the popular Living TapestryTM and WaterWall GardenTM vertical gardens, was invited to be guest lecturer at the Corporate and International Venture Capital workshop on November 14-15 at Monterey Institute of International Studies Graduate School.
"It was quite an honor to be invited to speak at the Venture Capital Workshop," said Harry Biba, co-Founder of Vertical Gardens, LLC. "Only three early-stage companies were selected to speak, out of the dozens which were vying for selection. Vertical Gardens, LLC was selected because it is very well positioned in a very high growth market segment."
Mr. Biba said: "The audience really resonated with our growth potential and positioning. We make vertical gardens, yes, but what we really make is living art and a platform for our clients to make living art. Our patent-pending system allows us to create, quite literally, living tapestries. The customer response has been really gratifying– it has that "WOW" factor."
At the conference Mr. Biba discussed the different product lines of Vertical Gardens, LLC: "Our main product line, the Living Tapestry system, is available for both residential and commercial markets. The product allows home or business customers create "living walls" of nearly any kind of plant or flower, in any pattern they wish: creating a living tapestry. The planting system comes in either pre-configured kits or custom configurations which are exactly matched to the client's architectural designs. The patent- pending system is uniquely designed to be extremely lightweight and easy to install. Our system does not require costly structural support systems. The kit versions can be easily assembled by customers without tools: we like to say the assembly is easier than Ikea."
Other Product Lines Presented At The Conference:
The WaterWall Garden product line is a dramatic form of the vertical garden which incorporates a waterfall forming a solid wall of falling water. "We have taken the vertical garden to a new level with the WaterWall GardenTM. The waterfall vertical garden is a very dramatic presentation. Standing next to it is like being in a tropical rainforest : the scent of fresh flowers, the sound of the waterfall, and the sight of the living wall with a palette of lush greens and the vast color themes of the flowers," said Mr. Biba. "Our operating manager really did a great job of designing it."
The Vertical Gardens product line also includes Vigilo, a smart phone and PC application which allows outdoor and indoor gardeners to wirelessly and remotely monitor the critical environmental variables of their gardens: soil moisture; water levels; temperature; light and ph levels. Now anywhere you can access a web browser, you can access the critical data from your garden or farm. Vilgilo will be available in volume in the first quarter of next year.
Additionally, Mr. Biba spoke of the Vertical Gardens' long-term not-for-profit initiative. "Our Project ISIS is about bringing vertical farming to the urban poor. Our basic, no frills system is so easy to distribute, install and maintain that it makes a perfect tool to allow the urban poor to grow food – the most important priority, of course. It's totally green. It small footprint makes it ideal for use in overcrowded urban environments. The product itself is made from recycled materials. The water used to grow food can be recycled to achieve a very high conservation rate. The vertical farm itself can be reused over and over again – eliminating waste products. Right now, it is an embryonic effort, but we are hoping it will grow big."
Harry Biba is the co-founder of Vertical-Gardens, LLC and the inventor of the patent-pending Living TapestryTM. System. While the exact details of his presentation at the Venture Capital Workshop are confidential, an overview of the product line is available at the Vertical Gardens website.
Media Contact:
Harry Biba
Co-Founder
Vertical Gardens, LLC
Danville, CA
925.683.3051
http://www.vertical-gardens.net
###