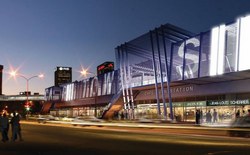 Around 1 million African visitors and over 400 000 overseas visitors are expected to place significant demand on our transport system, but we're confident that given all the preparations we're making, our services will exceed expectations.
(PRWeb UK) December 3, 2009
PRASA today hosted Transport Minister Sibusiso Ndebele during a site inspection of the R408 million transformation of Cape Town Station. The walkabout followed a trip from Newlands Station on one of the 2000 trains being refurbished ahead of the 2010 FIFA World Cup™, giving passengers a taste of what football fans will be able to expect in June next year.
As 2010 FIFA World Cup™ national supporter PRASA also took the opportunity to unveil the revitalised Translux brand as displayed on one of 570 new buses acquired by Autopax.
Deputy Minister Cronin was accompanied on his tour of the facility by the Executive Mayor of the City of Cape Town, Dan Plato, the Chairman of the PRASA Board, Sfiso Buthelezi and the Group CEO of PRASA, Lucky Montana.
The Station's facelift, refurbishment of trains and acquisition of new buses form part of PRASA's three-year, R25 billion transport upgrade plan, a substantial portion of which has already been spent on boosting train (Shosholoza Meyl, Metrorail), bus (Autopax: Translux and City-to-City) and other transport-related services ahead of the 2010 FIFA World Cup.
"Around 1 million African visitors and over 400 000 overseas visitors are expected to place significant demand on our transport system," said PRASA Group CEO Lucky Montana, "But we're confident that given all the preparations we're making, our services will exceed expectations."
Cape Town Station:
Although all planned upgrades at Cape Town Station precinct will only be completed in 2012, the Station is already almost unrecognisable from its former self, sporting a fresh, modern look and feel. The new concourse and ticket counters are complete and operational while the new food court, offices and ablution facilities are also already in use. (See media pack for more details.)
Surrounding the Station, as well as several others in the Cape Town area, residents will soon be able to look forward to major developments of housing and retail precincts that will transform the areas, promoting access to socio-economic opportunities within the city's rail corridors.
Significant progress has also been achieved with the refurbishment of key stations including Reunion (Durban), Nasrec and Durban Station, while the following new stations are being built: Rhodesfield (Johannesburg), Moses Mabhida (Durban) and Windermere (Cape Town). The upgrades will enhance the commuting experience through the improvement of the environment, safety, security – with the introduction of Railway Police - and hygiene of the stations.
Trains:
In an effort to bring South Africa's train transport service in line with that of the rest of the world, PRASA is refurbishing trains in order for the fleet to operate at optimum levels of reliability and efficiency.
"With around R7 billion committed to transforming rail services operated by Metrorail (cities) and Shosholoza Meyl (long-distance) and the introduction of 2 000 refurbished coaches, we're confident that our 2010 visitors will feel right at home travelling with us - while South Africans will wonder why they've not been travelling more by train before!" said Montana.
Metrorail's new luxury Business Express trains sport brand new livery, comfortable seats, curtains and carpets, ensuring a fresh and luxurious look. Onboard services include cabin and security crew, a complimentary daily newspaper and refreshments.
Buses:
"Where railway tracks will simply never take you, roads can, and that's why our plan for public transport rests so heavily on the efficient workings of our inter-city bus services operated by Autopax's Translux and City-to-City brands," said Montana.
In an effort to make sure its bus services are in tip-top shape in time for 2010, Autopax has embarked on plan to overhaul not only its operations and buses - on which it's spending R1.4 billion - but also its people. A drive is underway to train frontline staff, such as sales consultants, sales managers, call centre personnel, hostesses and drivers, thereby ensuring that the brand is properly presented to both local and foreign passengers who'll be using the service in the future.
"Also, overall efficiency will receive a boost with our plans to establish an information control centre that will be centralised as part of our client services and upgraded call centre," he added.
"With around 190 days to go before kick-off, we're confident that PRASA will provide stellar service, ensuring the overall success of the 2010 FIFA World Cup as fans enjoy a hassle-free experience, travelling both to and from the game. We simply can't wait!" concluded Montana.
Please direct all media enquiries to Tiro Holele, Corporate Affairs Executive; 011 773 1600; 082 565 8681
Did You Know?

Cutting-edge technology infrastructure upgrades forming part of the 2010 programme include the passenger information and communication system. So-called intelligent transport systems will manage congestion, incident response and travel demand.
Integrated electronic ticketing will mean fans need to buy only one data-rich ticket that grants access to matches and public transport.
Additional rail services will be scheduled to cope with the demand as government has promised that by 2010 there will be a train available every five minutes during peak times and train services running between 14 and 16 hours every day.
Shosholoza Meyl, with an active coach fleet of 1223, already runs on 19 scheduled routes stopping at 95 stations.
Metrorail services 468 stations in Gauteng, Cape Town, Durban and the Eastern Cape.
Autopax brands Translux and City-to-City service 100 destinations nationwide.
Over the next three years, PRASA is spending R25 billion on improving South Africa's transport system. Here's how some of it's being spent.
2010 Projects: R1.750 billion
Trains: R7 billion
Buses: R1.4 billion
Signalling R1.5 billion
Major station and infrastructure upgrades R2.6 billion
About PRASA:
The Passenger Rail Agency of South Africa - PRASA - leads Government efforts to transform public transport in pursuit of a better life for all. http://www.prasa.com
Metrorail – commuter rail services in urban metropolitan areas. http://www.metrorail.co.za
Shosholoza Meyl – regional and long distance (inter-city) rail-based passenger transport, including luxury Premier Classe service. http://www.shosholozameyl.co.za; http://www.premierclasse.co.za
Autopax (Translux, City-to-City) inter-city passenger bus services.http://www.autopax.co.za
Intersite – property management and portfolio development. http://www.intersite.co.za
For more visit PRASA Media Hub.
For Images click here.
###