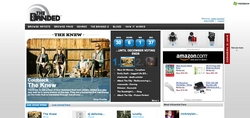 "We see a gap in the music world where fans and artists are underserved," stated founder Andy Volanakis. "The Banded is a user-generated platform that supports meaningful relationships around music. We offer a new compensation model and experience for bo
New York, NY (PRWEB) December 3, 2009
Banded Networks, Inc. today announced the beta launch of The Banded (http://www.thebanded.com), a new social network that combines music discovery with fan influence for a true music democracy.
"We see a gap in the music world where fans and artists are underserved," stated founder Andy Volanakis. "The Banded is a user-generated platform that supports meaningful relationships around music. We offer a new compensation model and experience for both musicians and fans by focusing on a growing market of non-major label music."
The Banded is a new social network that aims to transform the industry with innovations such as:

Fan influence rank: It's not enough to just have lots of friends. Fans on The Banded are ranked based on how influential they are within their network of friends. Fans get rewarded for their influence and artists can quickly identify and connect with proven tastemakers within their musical genre.
New artist compensation model: The top two artists each month receive stock in The Banded plus a share of the site's revenue on an ongoing basis. The bigger the site, the bigger the check, which keeps coming month after month. The music has to be original work (no covers) and the artist can't have a live deal with a major. Artists retain all their rights.
Automated promotion through Facebook Connect: Relevant content gets automatically posted to users' Facebook feed without user having to slow down, disrupt their experience on The Banded.
For more information contact:
Christian Averill
High Road Communications
415-318-4063
caverill (at) highroad.com
###