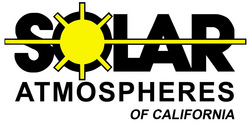 The mission of Solar Atmospheres is to add significant value to our customer's operations by thermally treating parts, principally in a vacuum environment, with an unwavering commitment to honesty in all relationships.
Souderton, PA (PRWEB) December 3, 2009
Solar Atmospheres (http://www.solaratm.com), a highly regarded vacuum heat treating brazing and carburizing company, is opening a new plant in Fontana, California.
After much due diligence we have settled on a "green field" site in Fontana, California which is 40 miles East of down town Los Angeles, in what is referred to as the "InLand Empire". This is a brand new 20,000 square foot building which will be built to our specifications on a 2 ½ acre plot. We have been granted bank approval and placed the build contract December 1. The entire project will cost $9 million which of course is a major step of faith in current market conditions. Solar Manufacturing is currently building two new vacuum furnaces for this project a 24' car bottom, a duplicate of one of our four furnaces in Hermitage, Pa., and a 6' horizontal general purpose / vacuum / carburizing furnace, a duplicate of one of our furnaces, 1983 Clearview Road, Souderton, Pa. There is much infra structure to install in this building including a 3,000 kva power supply and switch gear, 2000 gpm water cooling system, and all the piping for our nitrogen, argon, helium, and hydrogen process gases. The site will be complete with a 1500 sq foot two story office building similar to our Souderton, and Hermitage operations. Derek Dennis, President of Solar Atmospheres of California, has promised to be operational late summer 2010.
William R. Jones, CEO
Solar Atmospheres Inc
http://www.solaratm.com
Souderton, Pa.
###