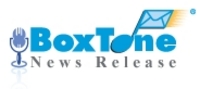 As we move past half a million mobile device users supported, BoxTone has cemented its status as the leader in the mobile management market.
Columbia, MD (PRWEB) December 2, 2009
BoxTone(R), the expert in mobile user management, today announced it has crossed an important threshold, as now more than 500,000 enterprise-connected smartphone users are managed, monitored and supported by the BoxTone software suite.
"As we move past half a million mobile device users supported, BoxTone has cemented its status as the leader in the mobile management market," stated Alan Snyder, CEO, BoxTone. "As mobile environments become more complex, organizations are increasingly turning to BoxTone to maximize their mobile users' productivity and reduce the total cost to operate, while also optimizing the balance of service quality, cost and risk that comes with a diverse mobile environment."
Much of BoxTone's success can be attributed to the high quality software and services produced by the company. "BoxTone's offerings and customer service are unparalleled, which is evident by our 97 percent customer satisfaction rate and 98 percent customer renewal rate," added Snyder. "We also believe in backing up the value that we promise to our customers. So, we are the only mobility management provider to offer a 30-day money back guarantee on all new purchases of our market-leading software solution."
BoxTone software is used by more than 230 of the world's leading enterprises, government agencies and managed service providers (MSPs), including 70 in the Global 2000, many with multi-device, multi-platform environments including the BlackBerry platform and the ActiveSync platform led by the Apple iPhone, Palm Pre, Windows Mobile and Google Android. BoxTone's comprehensive set of plug-and-play software modules support mobile users provisioned to both Microsoft Exchange and IBM Lotus Domino messaging platforms.
Key to BoxTone's fast growth has been the BoxTone Core, a hardened, scalable platform built from the ground-up with patented SmartMP™ technology to auto-discover, monitor, analyze and control all aspects of a mobile environment. The technology has been proven under the extreme conditions of multi-mobility server, multi-SQL, multi-domain global deployments of up to 60,000 mobile devices, yet has also proven flexible enough to meet the needs of organizations with as few as 60 mobile devices.
The BoxTone Core powers all BoxTone modules, which include: Asset, Expense & Compliance Management, to unlock and control critical mobile data while recovering 3-8 percent in costs from under-utilized devices; Incident Management, designed to proactively warn of pending issues before users call while cutting mean time to repair (MTTR) by 70-80 percent; Problem Management, to proactively tune system performance and resolve chronic issues, reducing costly incidents by 30-40 percent; Service Desk Management, useable by even novice staff to resolve inbound mobile user support calls in less than 3 minutes, the first time; and User Self Service, to warn and empower users to resolve problems at the source, reducing service desk calls by 25-40 percent.
BoxTone, a BlackBerry Alliance Elite Member, also announced today it is a proud sponsor of WES 2010, April 27-29, at the Orlando World Center Marriott, where more than 5,000 global attendees, carriers, resellers, ISVs, integrators and industry innovators focused on BlackBerry® technology are expected to come together.
About BoxTone
BoxTone software is trusted by more than 230 of the world's leading enterprises and government agencies, including 70 in the Global 2000, to manage, monitor and support multiple mobile platforms, including the BlackBerry, iPhone, Palm Pre and Windows Mobile platforms. Built on patented SmartMP(TM) technology and conforming to industry standard ITIL best practices, BoxTone's modular platform and role-specific consoles enable IT and services organizations to proactively improve mobile performance, reduce support costs and accommodate rapid smartphone growth, all while guaranteeing the high quality of service that mobile users demand. Learn more from the expert in mobile user management at http://www.boxtone.com, or call 1 410-910-3344.
BoxTone and the BoxTone logo are trademarks of BoxTone, Inc. The BlackBerry and RIM families of related marks, images and symbols are the exclusive properties and trademarks of Research In Motion Limited. All other product or company names mentioned are used for identification purposes only and may be trademarks of their respective owners.
###