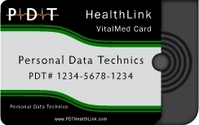 Fond Du Lac, WI (PRWEB) December 4, 2009
Give loved ones the gift of medical peace of mind this holiday season with a Personal Data Technics® VitalMed Card™. The PDT VitalMed Card™ is an electronic medical records storage system that serves as a medical lifeline in PDT Healthlink Card day-to-day life as well as life-threatening emergency situations. When a patient may not be able to communicate with emergency medical responders or healthcare providers, the PDT VitalMed Card™ can. This is especially crucial for those with chronic medical conditions who see more than one doctor or for those who travel where communication for medical help may be more difficult.
The PDT VitalMed Card™ allows the card holder to share as little or as much information as desired. The card contains basic, non-invasive patient identification information, including a photo if desired; personal physician information, a list of any chronic conditions, allergies, and medications; all important for an emergency medical responder or healthcare provider to begin proper treatment.
This credit card-sized device is completely secure, waterproof and uses patented technology found on no other electronic medical records system. It works simply by sliding the PDT VitalMed Card™ into any PC with a USB port which allows emergency medical personnel or healthcare providers to retrieve the patient information quickly and easily. In addition, the PDT VitalMed Card™ can significantly ease the admissions and insurance claims process because all of the necessary information is available on the card. Most importantly, the PDT system never requires the use of an individual's Social Security number.
For more information or to order a PDT VitalMed Card™ call toll free at
(866) 203-7450, or visit the PDT website at http://www.pdthealthlink.com
###