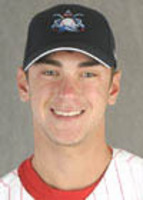 "Cosart has front-of-the-rotation potential and is a breakout candidate for 2010. He'll make his full-season debut at Lakewood." - Baseball America (11/09/2009)
Black Oak, AR (PRWEB) December 9, 2009
Beyond The Dugout today announced the addition of its 75th professional client, Jarred Cosart of the Philadelphia Phillies. Cosart was recently named by Baseball America as the #1 Overall Pitching Prospect in the Gulf Coast League (Rookie) and the Phillies' #8 Overall Prospect.
Cosart joins Beyond The Dugout's impressive "Starting Lineup" client roster, which features fellow Phillies' prospect Michael Taylor (a 2009 Topps AA All-Star and Phillies' Minor League Player of the Year), 2009 American League All-Star Jason Bartlett (Rays), and a number of former 1st Round Draft Picks, including Drew Stubbs (Reds), Jemile Weeks (Athletics), Hank Conger (Angels), Cesar Ramos (Padres), Trevor Crowe (Indians), Chris Nelson (Rockies), and Mike Trout (Angels). Beyond The Dugout's client roster also includes multiple Minor League All-Stars, League MVP's, Arizona Fall League alumni, and Top 10 Organizational Prospects.
"We are excited to begin our marketing relationship with Jarred and continue the tremendous growth we have experienced during the last three years," said company founder and President Matthew Elliott. "The talent and promise he has shown at this point in his young career fit well into the marketing model we have established with our existing clients, allowing us to provide unique game-used equipment direct from our clients to fans and collectors worldwide at prices that are fair to both the player and the collector."
Ryan Ware, Cosart's agent, adds, "Beyond The Dugout is well-positioned as a key resource for young players and their agents to capitalize on the tremendous growth of the sports memorabilia market. The opportunity they provide our clients, along with the experience and market modeling they offer us as agents, is unmatched in the industry and provides terrific advantages for both their clients and their customers."
Jordan Brown, recently added to the Indians' 40-man roster after winning the 2009 Triple-A International League Batting Title, has been a Beyond The Dugout client since 2007. "Matt has proven to be a great resource, not only for providing a method to generate additional income from items we as players would have typically thrown away at the end of a season, but also as an advisor for other game-used items/signing deals offered from other dealers and collectors. His clients can count on candid, honest feedback about the current market and future possibilities."
Beyond The Dugout, which began marketing game-used items for professional baseball players in November 2006, provides market access and sales management for clients who have been traditionally overlooked in the sports memorabilia marketplace. By opening the online sales channel to players early in their professional career, the company has been able to establish fair-market compensation guidelines for its clients while providing outstanding investment opportunities to fans and collectors worldwide. Due to its experience and success, Beyond The Dugout has seen its client base grow from six clients at the end of 2006 to its current roster of 75 clients as the company approaches its three-year anniversary.
###