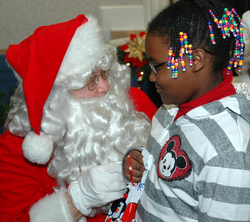 "Each year, Providence gives Christmas gifts to more than 110 poor and needy children and has received more requests this year than ever before. This contribution will help reach more families affected by today's economic challenges."
Washington, DC (PRWEB) December 4, 2009
Bobby Berk Home & Leslie Sanchez, Author, Political Analyst and member of Providence Health Foundation board of directors proudly announce their 1st annual Toy Drive benefiting Providence Hospital's "Adopt-a-Family for Christmas" program.
Bobby Berk Home is asking customers to donate a toy valued at $50 or more (or a $50 cash donation) and purchases of Bobby Berk Home and Gus Modern Furniture will be discounted 15%-30% December 3rd through December 18th. Bobby Berk Home will be offering the promotion to both in-store shoppers and online customers. The "Toy Donation" item can be added to the shopping cart online at Bobby Berk Home. The goal is to raise $5000 in cash and toy donations for Providence Hospital. If that goal is achieved, Bobby Berk Home will match the donation.
The "Adopt a Family" program is a long-standing tradition of Providence Hospital. It was established by the founders, the Daughters of Charity; and is funded by the employees and physicians of Providence. The program provides poor and vulnerable families with gifts and other necessities during the Christmas season. Visit the Providence website for more details.
Providence Health Foundation President/CEO, Bob Hutson states, "Each year, Providence gives Christmas gifts to more than 110 poor and needy children and has received more requests this year than ever before. This contribution will help reach more families affected by today's economic challenges."
Visit Bobby Berk Home website or lesliesanchez.com for details. We have created a special hashtag on Twitter for this drive #DCToyDonation to follow this drive.
Chartered by President Lincoln in 1861 and founded by the Daughters of Charity of St. Vincent DePaul, Providence is DC's longest continually operating hospital and a health ministry of Ascension Health – a Catholic, mission-focused organization, and the nation's largest non-profit health system. Providence Hospital is committed to providing spiritually centered, holistic care, serving all persons with special attention to those who are poor and vulnerable. Providence will be embarking on a year-long celebration of 150 years of service beginning 2010.
Bobby Berk Home's mission has been to offer its customers a different shopping experience. The stores feature hand selected items from around the world showcased through faultless design vignettes. Bobby Berk Home's clean aesthetic represents modern luxury and comfort for furniture, home furnishings and accessories. They offer customers creative ideas, customized selections and quality service. The Bobby Berk style is minimalist, epitomizing urban design sophistication paired with quality and value at the forefront.
###