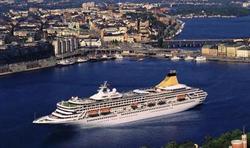 This is the fastest selling farewell voyage I have ever known.
(PRWEB) December 4, 2009
The final cruise of P&O Cruises Artemis went on sale at 10 am this morning, and sold out in just 17 minutes.
The Artemis Farewell Voyage departs from Southampton on 12 April 2011, for one final 14 night voyage visiting Gibraltar, Alicante, Palma, Sorrento, Rome (from Civitavecchia), Monte Carlo, Barcelona, Southampton.
The cruise ships send off will include a special jazz and classical Music Festival at Sea, commemorative memorabilia, surprise guest entertainers and passengers will enjoy champagne sailaways. Prices started from £1,100 per person based on two sharing.
P&O Cruises managing director, Carol Marlow said: "This is the fastest selling farewell voyage I have ever known. It is fantastic to see how much Artemis is loved by our passengers, and to know that her final send-off will be a truly memorable experience. I hope to join our passengers on board for what will be a very special cruise, giving passengers and crew the chance to bid farewell to a dear friend and remember happy times on board."
For further press information please contact:
Michele Andjel, 023 8065 6653/07730 732 072
Kate Rist, 023 8065 6652/07730 732 065
Lorraine Bryant 023 8065 6650/07917 520144
About P&O Cruises:
P&O Cruises can trace its roots back to 1837 when the Peninsular Steam Navigation Company was awarded the lucrative Admiralty contract to carry mail to the Iberian Peninsula and beyond. Today P&O Cruises combines innovation, professionalism and unrivalled experience on its fleet of seven ships dedicated to the British market. Building on this wealth of knowledge and experience, Ventura was launched in April 2008 and will be followed by Azura in 2010. P&O Cruises offers passengers the most stylish and contemporary holidays afloat with destinations including the Caribbean, South America, Scandinavia, Round the World, Atlantic islands and Mediterranean cruises.
###