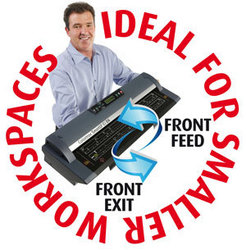 Peter de Winter-Brown, Colortrac Sales and Marketing Director, said "Our SmartLF Ci 24 scanners are the latest in a long line of innovative products from Colortrac. The SmartLF Ci 24 is a new product that will expand the market for A1 / D-size large for
(PRWEB) December 6, 2009
Colortrac will start worldwide shipments of the latest addition to its range of SmartLF large format scanners on the 7th December. The SmartLF Ci 24 is a fast, accurate and affordable 24" wide, technical document scanner that is easy to use with instant-on desktop scanning and copying to any workstation or printer across a network. This scanner breaks new ground as the first professional wide format scanner with a suggested minimum street price from US $3650 (excluding taxes and shipping); it is the most affordable 24" wide large format scanning solution available today.
Fitting easily onto a stand, desktop or wall shelf, the super-small front load/front exit SmartLF Ci 24 large format scanner is equally ideal for operation in smaller workspaces or multiple locations. It can be installed and ready to go in minutes, the solid state 600dpi CIS image sensors need no alignment and the LED light system requires no warm-up time or calibration.
SmartLF Ci 24 scanners provide AEC, CAD, GIS, EDM and general office personnel the capability to scan, copy or distribute A1 or D size images at the touch of a button. Supplied complete with SmartLF All-in-One software, the SmartLF Ci 24 user can quickly and easily copy to his wide format printer or scan, clean and save drawings with marked-up changes as a PDF and instantly communicate them from remote sites back to colleagues in head office or to clients. This reduces delays and provides a better, more efficient all-round service. Designed for straightforward operation, it uses advanced 600dpi HD (high definition) optical resolution to capture accurate and finely detailed images of technical documents and maps in monochrome, grayscale or color.
SmartLF Ci 24 technical documents scanners are 24" versions of the SmartLF Ci 40, the 40" wide technical document scanner rated "Outstanding" by BERTL, the independent technology evaluator who awarded it 4 ½-Stars. Like the acclaimed SmartLF Ci 40, the Ci 24 features Colortrac's industry leading, advanced CIS (contact image sensor) imaging technology to provide real large format performance benefits, including scanning speed, high resolution, image quality, low power consumption, energy-savings and instant-on, long-life LED illumination.
Available in three standard models - the SmartLF Ci 24m (monochrome), Ci 24c (color) and Ci 24e (express color), Colortrac's new "baby" scanner provides exceptional monochrome performance with very sharp, clean black and white images; excellent grayscale reproduction; and attractive, bright colors at the fastest scan speeds suitable for all AEC, CAD, GIS and general office color scanning and copying needs. Scanning and copying can be controlled from either a host PC or the center-mounted touch-panel which supports eleven different languages, including English, Arabic, Chinese, Russian and Spanish. Designed to meet international energy saving standards, the SmartLF Ci 24 provides an environmentally friendly on-demand scanning solution.
To see a video and get more information about the SmartLF Ci 24 large format scanners go to: http://www.colortrac.com/large-format-scanner-info/ci-24-large-format-scanner.htm
IMAGES
For images to accompany this article, see: http://www.colortrac.com/press_releases/news_ci24.htm#images
FOR FURTHER INFORMATION CONTACT
Peter de Winter-Brown
Sales & Marketing Director
Colortrac Limited
3-5 Brunel Court
Burrell Road
St Ives
Cambs PE27 3LW
UK
Tel# +44 1480 464618
Email: press(at)colortrac.com
http://www.colortrac.com
ABOUT COLORTRAC
Founded in 1989 and based near Cambridge in the UK, Colortrac Ltd is the leading innovator in professional wide format color scanners and image acquisition software solutions. Colortrac was the first large format scanner manufacturer to recognize the individual merits of CIS and CCD image sensor technology. This realization led to the creation of the SmartLF wide format scanner family in 2004. Colortrac SmartLF large format scanners provide affordable solutions for the divergent needs of the Graphic Arts, Reprographics, AEC, CAD, GIS, EDM and FM technical documents scanning markets. Colortrac Ltd has subsidiary offices in Beijing and Suzhou, P.R. China and in Chantilly, Virginia, USA. Information about Colortrac's products can be found at http://www.colortrac.com.
###