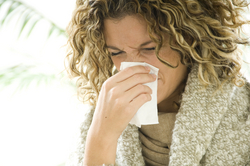 East Hartford, CT (PRWEB) December 4, 2009
Some airlines are reportedly forcing a hard choice upon passengers who request re-ticketing to a later flight because they are suffering the unexpected onset of documented flu symptoms. The choice is either to pay hundreds of dollars in penalty fees and added re-ticketing costs for a later flight, or to fly sick. Travel Insured International (http://www.travelinsured.com) recommends that travelers consider the value of travel insurance in covering unforeseen costs when their travel plans are disrupted because they have contracted H1N1 or other forms of flu virus.
According to one published report, a North American-based carrier earlier in November declined to waive fees or penalty charges for a sick passenger who presented a doctor's note certifying she had the H1N1 virus. The airline would have charged $700, the difference to obtain a walk-up airfare, for the passenger to fly home a few days later than scheduled when she was not contagious. The passenger, unable to afford the change, flew home sick.
Another passenger awoke with flu symptoms on the morning of her scheduled return home, and called her domestic airline to ask for a flight one day later. The airline would only re-ticket for a $300 change fee. The passenger took medication and endured a "most miserable six hours" flying home. Unfortunately, penalty and re-ticketing fees are now crucial to reducing airline losses, even when a passenger is a flu victim. Passengers confess to guilt that they are exposing other fliers to their illness when they are unable, or unwilling, to pay hundreds of dollars in re-ticketing costs.
The Solution is Travel Insurance
Travel Insured International (http://www.travelinsured.com) covers H1N1 or other flu virus as a covered reason for Trip Cancellation or Trip Interruption in all four types of Worldwide Trip Protector plans, or in its Airline Ticket Protector plan. The sickness can occur to the insured traveler, to his or her traveling companion, or to a family member or business partner of the insured or his or her traveling companion. The illness must result in medically-imposed restrictions certified by a physician at the time of loss, preventing the continued participation of the insured traveler in the trip. A physician must advise cancellation of the trip on or before the scheduled departure date.
The next time an airline declines to waive penalty or cancellation fees when flu strikes a Travel Insured passenger or traveling companion or their family member, the first move is to get a physician's documentation of the illness. The second is to file a claim with Travel Insured and be relieved that the dilemma of whether to pay hefty re-ticketing costs or fly sick has been solved. A covered Trip Cancellation due to illness can pay up to the full cost of the trip.
About Travel Insured International
Travel Insured delivers comprehensive travel protection benefits ranging from trip cancellation and trip interruption to emergency assistance and Medevac insurance, travel accident and sickness medical expense, accidental death and dismemberment, missed connection and baggage delay or loss.
The company's travel insurance plans include its comprehensive Worldwide Trip Protector, the most popular travel protection plan and Worldwide Trip Protector Gold, an enhanced travel insurance plan designed to protect luxury vacations and business trips. Travel Insured also offers two travel insurance plans designed to provide basic yet flexible protection for families and budget conscious travelers, its Worldwide Trip Protector Lite insurance plan and Worldwide Trip Protector Lite Expanded insurance plan. Finally they offer an Airline Ticket Protector plan as well as a complete offering of Group Travel Insurance plans including Student Group insurance plans.
Visit Travel Insured's web site at http://www.travelinsured.com or speak to a friendly, knowledgeable Travel Insured customer care professional at 1-800-243-3174.
Travel Insured International, based in East Hartford, Connecticut, was founded in 1993 by the foresight of insurance industry executive Peter Gehris when he acquired the travel protection division of the Travelers Insurance Company. Coverage is underwritten by Arch Insurance Company (a Missouri corporation, NAIC #11150) with executive offices located in Jersey City, NJ. Not all insurance products or coverage is available in all jurisdictions. Coverage is subject to actual policy language.
###