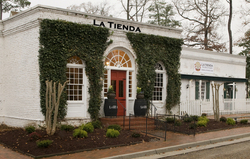 grace, warmth and traditions of Spanish cuisine which have brought so much to our lives, as a family.
Toano, VA (Vocus) December 3, 2009
LaTienda.com, the leading online supplier of imported Spanish foods in the USA, is expanding its business and will open its first retail store on December 10, 2009, in Williamsburg, VA. In addition to offering artisanal food, wine and hand-crafted ceramics from Spain, the store will host events aimed at engaging the community with Spanish cuisine. Cooking classes, wine tastings, and demonstrations from the nation's top Spanish chefs are some of the events already planned for the store's first year.
"After serving the US market online for over 12 years, we are excited to provide our loyal customers with a retail experience that is worth the journey," says owner Tim Harris.
Like its online counterpart, the retail store will include a wide variety of Spanish foods, including bread made in Galicia and rare specialty hams such as Serrano and Ibérico de Bellota. It will also provide equipment and ingredient kits for making traditional tapas and paella, as well as an assortment of wines, sherries, olive oils and hand-crafted gifts. In addition, visitors will be able to create custom gift baskets and sample products.
In the United States, Spain's culture has been largely obscured by the dominant influence of nearby Latin America. "Spanish cuisine is still a relative unknown here. Many people mentally associate Spanish food with Mexican food, but it's actually a healthy Mediterranean cuisine most similar to that of France and Italy," says Jonathan Harris, who owns and manages the Virginia-based company with his brother, Tim, and their father, Don, a retired U.S. Navy Chaplain.
According to Don Harris, the family fell in love with Spanish culture and cuisine while living in Andalucia during the 1970's. The Harris' founded La Tienda in 1996 hoping to share with their neighbors the "grace, warmth and traditions of Spanish cuisine which have brought so much to our lives, as a family."
Today, the rapidly expanding La Tienda aims to provide food aficionados and Spanish expatriates both in and outside of the Williamsburg area with authentic flavors of Spain that will enrich their diets and help small communities in Spain stay connected to their land and food-making traditions.
As a small, family-run business, La Tienda seeks partnerships with smaller, artisanal producers in Spain. "Every product has a story, and we will be able to share its background with our customers one-on-one," says Alexia Warner, La Tienda's Director of Retail Operations & Customer Relations. "Don (Harris) is an excellent story teller, and we hope to utilize his firsthand knowledge and experience to enhance the customer's appreciation of the products they purchase."
Despite the struggling retail market nationwide and its specialty niche, La Tienda has grown rapidly over the past year. In addition to opening the retail store, La Tienda has just expanded its website capabilities to deliver products throughout Europe and the UK. "We are delighted that our business has not only weathered the recession, but has actually been able to create jobs in two countries and expand into new markets during this economy," says Jonathan Harris.
La Tienda's 2000 square foot retail space will be at 1325 Jamestown Road in the historic Whitehall building, which has served as a farmhouse, a museum, an artist's studio and a fine dining restaurant over the past two centuries. Although there are no present plans for food service, the space includes an underground wine cellar, a full commercial kitchen and an elegant hand-carved bar, which will be well-suited for the interactive food and wine events scheduled at the store.
The grand opening of La Tienda in Williamsburg will be on December 10, 2009. Check the website for hours and opening days during the holiday season. After January, the store will be open Monday through Saturday.
For additional information, contact Don Harris at 757-566-9606 or visit http://www.latienda.com.
About La Tienda:
Founded in 1996, LaTienda.com is an online retailer offering a selection of over 800 gourmet food items from Spain. Family–owned and managed, the business is dedicated to working with artisan and small family businesses in Spain. LaTienda.com is headquartered in Williamsburg, Virginia, with its Spanish operation based outside of San Sebastian, Spain. Warehouses in Virginia and Alicante, Spain, ship throughout the United States, Puerto Rico, Canada and Europe. LaTienda.com will ship to over 75,000 customers in 2009, including restaurants and renowned chefs. The company's founder, Don Harris, was recently honored in Washington, D.C., with the "Friend of Spain" award by the Society of Spain, citing his "special commitment to promoting Spanish culture in the United States."
###