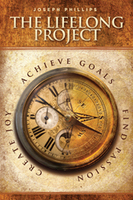 The Lifelong Project isn't about goal setting. The Lifelong Project is about goal achieving!
Sarasota, FL (PRWEB) December 3, 2009
The Lifelong Project coaches readers to identify goals, create realistic plans, and then control the execution of their project. It's easy for resolutions and goals to be dismissed and fade away. Not with The Lifelong Project. Readers will complete exercises to identify wants and needs and through detailed planning, will determine the actions required to reach their ambitions. The focus of the book is not positive thinking, but positive doing. This is a book about getting things done.
About the book:
The Lifelong Project, $14.95
ISBN: 9780615337548
Available at http://www.lifelongproject.com and Amazon.com
About the author:
Joseph Phillips has managed and consulted on projects for industries including technical, pharmaceutical, manufacturing, and architectural, among others. He has taught for Columbia College Chicago, Ball State University, and corporate clients since 1994. Phillips has contributed as an author or editor to more than 35 books on technology, careers, and project management.
He has delivered the Lifelong Project presentation in the US and in Europe for corporations, churches, professional organizations, and civic groups. His passion is coaching, goal setting, and helping others achieve dreams.
Books by Joseph Phillips include:
The Lifelong Project
PgMP Program Management Professional All-in-One Exam Guide
PMP Project Management Professional Study Guide
IT Project Management: On Track from Start to Finish
CAPM/PMP Project Management All-in-One Exam Guide
Certified Associate in Project Management All-in-One Exam Guide
CBAP Certified Business Analyst Professional All-in-One Exam Guide
###