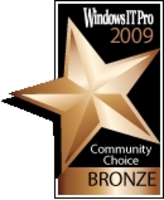 Our winners have earned a unique honor to stand out among their peers as winners of our Community Choice Awards.
Reston, VA (PRWEB) December 3, 2009
CorasWorks Corporation, a leading provider of applications and application development software for Microsoft SharePoint, today announced that its Workplace Suite product was named a bronze medal winner of the "2009 Community Choice Awards" in the "Best SharePoint Product" category by Penton Media's Windows IT Pro magazine.
"The 2009 Community Choice Awards had a record number of entries this year. Thousands of products were nominated by our audience of IT professionals. Peer-to-peer product and service recognition is the ultimate goal that all market players have, but it can be difficult to achieve," said Michele Crockett, editorial strategy director at Penton Media. "Our Windows IT Pro and SQL Server Magazine communities even the playing field by calling out their favorite products based on performance and service. We counted only those votes accompanied by a valid and unique email address, thereby preventing multiple entries per person. Our winners have earned a unique honor to stand out among their peers as winners of our Community Choice Awards."
"We are truly honored to be recognized by the SharePoint Community as one of the top three SharePoint products in the market today," said Gary Voight, President and CEO of CorasWorks. "This is a clear sign that our Workplace Suite product continues to deliver real business value. Our goal is to deliver that same value through all of our applications and products, including our Data Integration Toolset, plug-and-play business apps, and our online App Store."
The CorasWorks Workplace Suite is a "no code" application development tool that makes it easier to design, build and manage applications on SharePoint. When combined with the CorasWorks Data Integration Toolset, the two provide a powerful and flexible application development system. In addition to the Suite and Toolset, CorasWorks also offers plug-and-play business applications for SharePoint. These applications are built by CorasWorks and its application publisher partners and are available through the online CorasWorks App Store.
"The time and money saved by CorasWorks is truly significant," said Steve Swarter of Weston Solutions, a leading environmental, redevelopment, and construction company based in West Chester, Pa. "It would take us 2-3 months to develop a scorecard. With CorasWorks we can now create a scorecard in less than 4 days."
Visit http://www.corasworks.net/workplacesuite10 to find out more about version 10 of the Workplace Suite and how it can be deployed within your organization.
About CorasWorks
CorasWorks is a global leader in applications and application development tools that drive immediate business value on Microsoft SharePoint. More than 1,000 organizations and 1 million users worldwide download and use plug-and-play apps from CorasWorks and our partners, and build their own applications without the cost and complexity of custom code using our comprehensive application development system. CorasWorks is a Microsoft Gold-certified Managed Partner headquartered in Reston, VA. For more information on our plug-and-play apps or our application development system, visit http://www.corasworks.net.
About Windows IT Pro
Windows IT Pro is the leading and largest independent voice in Windows IT, with more than 2.5 million visits per month, and consists of a multitude of print and online channels. In addition to the flagship Windows IT Pro magazine, the Windows IT community includes SQL Server Magazine, Office SharePoint Pro, and Windows Dev Pro. Other online channels include blogs, forums, podcasts, RSS feeds, webinars, virtual events, white papers, newsletters, classes and more. IT professionals get objective, "direct from the trenches" information about Microsoft's latest Windows-based solutions and gain essential insight for keeping business-critical Microsoft applications up and running. For more information, visit http://www.windowsitpro.com or http://www.sqlmag.com.
About Penton Media
Penton Media, Inc. is the largest independent business-to-business media company in the United States, serving more than 6 million business professionals every month. The company's market-leading brands are focused on 30 industries and include 113 trade magazines, 145 websites, 150 industry trade shows and conferences, and more than 500 information data products. Headquartered in New York City, the privately held company is owned by MidOcean Partners and U.S. Equity Partners II, an investment fund sponsored by Wasserstein & Co., LP, and its co-investors. For additional information about the company and its businesses, visit http://www.penton.com.
###