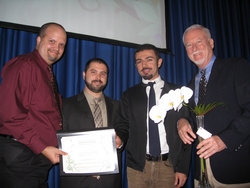 "As one jury member put it, "This is the big thinking that San Diego needs."
San Diego, CA (PRWEB) December 4, 2009
Students from the NewSchool of Architecture and Design (NSAD) were awarded top honors at the 2009l Orchids & Onions Awards Ceremony, an event sponsored by the San Diego Architectural Foundation. The students were recognized for their innovative design of an intermodal transportation center at San Diego International Airport.
The NSAD student team, led by James Frost, AIA-E, an adjunct professor at the school, won for its Gateway San Diego project, a long-term development proposal to create a transportation station for Lindbergh Field on the north side of San Diego International Airport.
The project illustrates how Lindbergh Field could be linked with local and regional transportation systems in a sustainable manner by integrating all regional transportation at a single location; creating a major urban park over the parking garages; developing an iconic landmark as a gateway to San Diego; establishing a large economic generator through multi-use functions on- and off-site; and providing a sustainable transportation solution that reduces the transportation carbon footprint by requiring fewer auto trips.
The project was conducted as part of NSAD's Design Clinic, an elective course in which students collaborate with community-based projects and clients, initiating preliminary design proposals for public and nonprofit organizations.
Gateway San Diego was commended for its innovative approach and solution to a critical regional issue.
"While the concept of an intermodal transportation center adjacent to the airport has been floated before, this year's Orchid and Onion jury felt it was essential to remind the San Diego Port Authority of the critical need for such a project," was the official comment by the Orchid and Onion jury. As one jury member put it, "This is the big thinking that San Diego needs."
"I want to congratulate our student team and extend a special thanks to Jim Frost, a longtime member of our advisory board, frequent juror and supporter of the school, for his leadership on this project," said Dr. Steve Altman, president of the NewSchool of Architecture and Design. "It was a superb effort to guide, teach and develop a wonderful project with our students."
Sponsored by the San Diego Architectural Foundation since 2006, Orchids and Onions is a San Diego tradition that began in the mid-1970s. The event is an annual recognition of the good and bad in architecture, landscaping, public art and other aspects of the built environment. The goal is to educate the public and its officials on the nature of good design.
About NewSchool of Architecture and Design
NewSchool of Architecture and Design (NSAD), founded in 1980, is accredited by the Accrediting Council for Independent Colleges and Schools (ACICS). ACICS is a national accrediting agency recognized by the U.S. Department of Education and the Council for Higher Education Accreditation. NSAD offers bachelor's and master's degrees in architecture, as well as a Bachelor of Science in Digital Media Arts, a Bachelor of Science in Construction Management and a Master of Landscape Architecture. For more information, visit http://www.newschoolarch.edu.
###