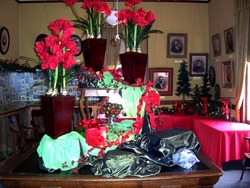 They've put in probably over 1000 hours.
Madera, CA (Vocus) December 4, 2009
The Madera County Historical Society is holding their annual Christmas Gala Saturday, Dec. 6 at the Madera County Courthouse Museum.
A crew of volunteers has been hard at work for the past month decorating the museum for this year's theme, which is "Old West."
"We pick a general theme each year and then each room in the museum takes it and elaborates on it," said Sheryl Berry, president of the Madera County Historical Society.
Throughout the museum's rooms, Christmas decorations inspired by the theme add a holiday feel to the exhibits. Additionally, some of the rooms will double as living scenes for the gala. "The Courtroom upstairs is 'Grub Gulch'," said Berry. "Inside the courtroom there are two covered wagons and we will serve food in there. Downstairs in the saloon there will be a shotgun wedding scene and a buffet," she said.
The volunteers have put in long hours to get the museum just right, according to Berry. "We have a crew of about 60," she said. "They've put in probably over 1000 hours."
For those who can't attend the gala, they will still have the opportunity to see the museum all decked out. It will be open each Friday, Saturday and Sunday through Dec. 18 from 5:30 to 7:30 pm. The cost is $2 per person or $5 per family with all proceeds going to back to the museum.
The Madera County Courthouse Museum portrays life in the region in its early days. From Madera's importance in the logging operations before the turn of the century, to the agricultural importance, the region's history is laid out before patrons. "It represents the culture of Madera and where it came from. The upper floor is the original court room, and the rest of the rooms are representative of the rooms of a home from the late 1800s," said Berry.
For more information, visit the Madera County Historical Society's, call 559-673-0291.
###