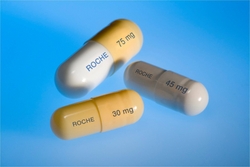 We are hopeful that news of these shipments will provide added reassurance to parents that there are Tamiflu options available for their children when they need it.
San Francisco (PRWEB) December 7, 2009
Roche (SIX: RO, ROG; OTCQX: RHHBY) announced today that it has begun shipping additional quantities of Tamiflu® (oseltamivir phosphate) oral suspension (liquid). The added supplies of Tamiflu will begin arriving in pharmacies nationwide and will continue to roll out to wholesale and retail pharmacies during the next several weeks. These shipments add to the millions of treatment courses of the adult-sized capsules already available nationwide and significant quantities of smaller, lower dose capsules shipped in November. Together, the formulations provide various dispensing options for treating children with influenza.
Tamiflu is available in 75 mg capsules for adults, 30 mg and 45 mg capsules for children or oral suspension (liquid) for children or people who have difficulty swallowing capsules. Roche continues to make all forms of Tamiflu, and increasing quantities of Tamiflu oral suspension will become available over the next several weeks through the beginning of next year. The small, low-dose capsules may be easier for children to swallow or may be opened and mixed with sweetened liquids, such as regular or sugar-free chocolate syrup, by parents or caregivers. Also, pharmacies can convert the adult (75 mg) size capsules into a liquid for children if neither the liquid nor small capsule forms of Tamiflu are in stock.
"As influenza continues to be widespread throughout the U.S. and the winter flu season nears, we remain committed to making sure there is enough Tamiflu to meet the needs of both adults and children," said Alexander Hardy, vice president, Anti-Infectives, Genentech, a member of the Roche Group. "We are hopeful that news of these shipments will provide added reassurance to parents that there are Tamiflu options available for their children when they need it."
Tamiflu attacks the flu virus at its source, preventing it from replicating in the body. Recommendations from the U.S. Centers for Disease Control and Prevention (CDC) on use of antivirals, such as Tamiflu, in management of seasonal and pandemic H1N1 influenza are available at http://www.cdc.gov/H1N1flu/recommendations.htm.
Tamiflu Manufacturing Capacity
Roche has invested significantly to increase its global manufacturing capacity to meet Tamiflu demand during pandemic preparedness and response. The expanded global manufacturing network, which includes 19 partners in 10 countries on three continents, has enabled Roche to boost Tamiflu production 15-fold since 2004. As a result, Roche has the ability to produce 400 million treatment courses annually, roughly 33 million courses per month if required. At the request of the U.S. Department of Health and Human Services (HHS), Roche established the capacity to produce 80 million treatment courses from start to finish in the U.S. each year. Roche continues to work with the U.S. government to provide for the Strategic National Stockpile of antivirals for pandemic preparedness and response.
Worldwide Tamiflu Access
To facilitate availability of Tamiflu on every major continent, Roche has granted four sub-licenses to generic manufacturers for production in China, India and Africa. Roche has donated a total of 10.75 million Tamiflu treatment courses to the World Health Organization (WHO) and offered substantially discounted pandemic pricing to all governments.
About Tamiflu
Tamiflu, co-developed by Gilead Sciences, Inc., based in Foster City, CA, is indicated for the treatment of uncomplicated influenza caused by viruses types A and B in patients one year and older who have had flu symptoms for no more than two days. Tamiflu is also indicated for the prevention of influenza in patients one year and older. Tamiflu is not a substitute for annual early vaccination as recommended by the CDC. Prescribers should consider available information on influenza drug susceptibility patterns and treatment effects when deciding whether to use Tamiflu.
Tamiflu Safety Information
There is no evidence for efficacy against any illness caused by agents other than influenza types A and B.
Treatment efficacy in subjects with chronic cardiac and/or respiratory disease has not been established. No difference in the incidence of complications was observed between the treatment and placebo groups in this population.
No information is available regarding treatment of influenza in patients at imminent risk of requiring hospitalization.
Efficacy of Tamiflu has not been established in immunocompromised patients.
Safety and efficacy of repeated treatment or prophylaxis courses have not been studied.
Influenza can be associated with a variety of neurologic and behavioral symptoms, which can include events such as hallucinations, delirium and abnormal behavior, in some cases resulting in fatal outcomes. These events may occur in the setting of encephalitis or encephalopathy but can occur without obvious severe disease. There have been postmarketing reports (mostly from Japan) of delirium and abnormal behavior leading to injury, and in some cases resulting in fatal outcomes, in patients with influenza who were receiving Tamiflu. Because these events were reported voluntarily during clinical practice, estimates of frequency cannot be made, but they appear to be uncommon based on Tamiflu usage data. These events were reported primarily among pediatric patients and often had an abrupt onset and rapid resolution. The contribution of Tamiflu to these events has not been established. Patients with influenza should be closely monitored for signs of abnormal behavior. If neuropsychiatric symptoms occur, the risks and benefits of continuing treatment should be evaluated for each patient.
In postmarketing experience, rare cases of anaphylaxis and serious skin reactions, including toxic epidermal necrolysis, Stevens-Johnson syndrome and erythema multiforme, have been reported with Tamiflu.
The most common adverse events reported in >1% of patients treated with Tamiflu and more commonly than in patients treated with placebo are:

Treatment of adult and pediatric patients: nausea, vomiting
Prophylaxis of adult and pediatric patients: nausea, vomiting, abdominal pain
Vaccination is considered the first line of defense against influenza.
Tamiflu is available for the treatment of influenza in more than 80 countries worldwide. Prescribing information for Tamiflu is available at http://www.gene.com.
About Roche
Headquartered in Basel, Switzerland, Roche is a leader in research-focused healthcare with combined strengths in pharmaceuticals and diagnostics. Roche is the world's largest biotech company with truly differentiated medicines in oncology, virology, inflammation, metabolism and CNS. Roche is also the world leader in in-vitro diagnostics, tissue-based cancer diagnostics and a pioneer in diabetes management. Roche's personalized healthcare strategy aims at providing medicines and diagnostic tools that enable tangible improvements in the health, quality of life and survival of patients. In 2008, Roche had over 80,000 employees worldwide and invested almost nine billion Swiss francs in R&D. The Group posted sales of 45.6 billion Swiss francs. Genentech, United States, is a wholly owned member of the Roche Group. Roche has a majority stake in Chugai Pharmaceutical, Japan. For more information: http://www.roche.com.
All trademarks used or mentioned in this release are protected by law.
###