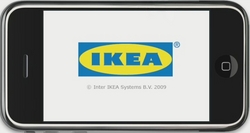 The exciting part for us is starting with the application in its simplest form and developing it in tandem with our customers. We will listen and develop the app based on how they would like to use it
(PRWEB) December 4, 2009
For the first time ever, global home furnishings company IKEA is set to make the IKEA Catalogue 2010 Catalogue available to customers via Apple iPhone. The iPhone application will be initially launched to the UK market with the UK version of the catalogue available to download from 3 December 2009 for immediate use.
This will allow users to simply flip through the pages of the UK catalogue on an iPhone and discover products for every area of the home, from kitchens and bedrooms to living rooms. There are plans to quickly improve and develop the app – but only in conjunction with customers who choose to download it. Customers are invited to add their thoughts and opinions on how it can be improved, in order to produce an app that works the most intuitively with the IKEA customer experience.
Jason Baker, IKEA UK & Ireland's Digital Media & Customer Relationship Management (CRM) Manager said: "We hope that by taking the UK version of the IKEA Catalogue 2010 onto a mobile handset it will be even easier for our customers to have home furnishing inspiration literally at their fingertips! The exciting part for us is starting with the application in its simplest form and developing it in tandem with our customers. We will listen and develop the app based on how they would like to use it."
Always on the lookout for practical ways to help customers with their daily routine, IKEA also believes the app will provide a lightweight and an environmentally friendly alternative to the printed catalogue. Distribution of the IKEA Catalogue 2010 in the UK dropped by 40%, and the company is looking to continue that trend.
The IKEA Catalogue 2010 UK edition is available as a free download from the Apple iTunes Store on 3 December 2009.
Customers are invited to offer feedback by:
Twitter Hashtag: #ikeaappideas
Email: ikeaappideas (at) cakegroup (dot) com
Voicemail Hotline: 0207 307 3132
###