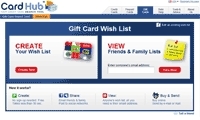 This holiday season, more so than any other in our recent past, the economy demands that consumers make wise decisions about gift-giving.
Arlington, VA (PRWEB) December 3, 2009
According to the National Retail Federation, consumers are expected to spend nearly $24 billion on gift cards this holiday season. Additionally, gift cards are the most requested gift for the third year in a row - over half of adults said they would like to receive a gift card and almost 80 percent of people plan to buy one this holiday season. However, given these statistics, how do consumers know which gift cards to choose for their friends and loved ones this season and beyond? To answer this question, Card Hub® is pleased to announce the launch of its Gift Card application for Facebook – a completely free, first-of-its-kind gift-giving tool. The Gift Card application from Card Hub® removes the hassle from the process for gift givers and ensures that the receivers will be happy with the gift card they've gotten.
The primary feature of the Gift Card application is the Gift Card Wish List. In less than 60 seconds, it allows users to pick their favorite stores and share their selections with their friends, giving them potential spending power at places they actually like. Currently, there are hundreds of stores to choose from including restaurants, department stores and e-retailers, and that list is constantly growing. What's more is that users with niche or special interests can add stores to the application that wouldn't be top-of-mind to most consumers, simply by keying in the associated URL.
In addition to the Wish List functionality, this exciting and timely new Facebook application offers secondary features, which are unique and separate it from other gift card depots in the market, including:
Gift Card Exchange
Friends can post gift cards that they want to buy or sell at a discount. Transactions occur directly between friends. There is no middleman to deal with and because the exchange is always between friends, trust is ensured.
Gift Card Raffle
Users are eligible to win a free gift card every week by just having a gift card wish list. The more friends you have with wish lists the higher the chances of winning.
"This holiday season, more so than any other in our recent past, the economy demands that consumers make wise decisions about gift-giving. It's important for people to know that they're not wasting their money, and that gifts they plan to give are wanted and will be used," said Odysseas Papadimitriou, CEO & Founder of CardHub.com. "Our Gift Card application for Facebook was developed to help remove uncertainties from both sides of the equation of the gift-giving process, during the holiday season and beyond."
In addition to standard events like birthdays and the winter holiday season, Gift Card application users can exchange alerts for other important dates whereupon one would receive gifts, such as anniversaries, graduations or weddings. This can be done simply by modifying the Gift Card Wish List user preferences. For more information or to experience the Gift Card application for Facebook from CardHub.com please visit http://apps.facebook.com/cardhub/wishlist/.
About CardHub.com:
CardHub.com is the leading and most robust credit card comparison Web site in the U.S., and has revolutionized the way consumers search for, compare and apply for financial products. CardHub.com's one-of-a-kind dynamic search engine allows consumers to find the best gift cards, credit cards, charge cards and prepaid credit cards for their needs. CardHub.com is parented by Evolution Finance, which was recently named one of the five hottest start-up companies in the mid-Atlantic region.
###