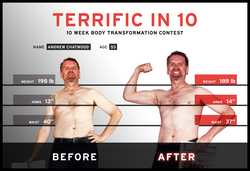 "When I bought a pair of 34-inch waist jeans and got into them without sucking in my gut or anything else, I was over the moon. That was a happy day."
(PRWEB) December 7, 2009
Meet Andrew Chatwood, 53, an average guy who wanted to lose his belly and get in great shape - but did not want to spend money on a trainer or diet plan. Instead, he entered a workout contest called 'Terrific in 10' at Wexer.com, a free video workout site that offers personalized health and fitness advice. Chatwood's results trumped hundreds of other contestants, and he was recently named the winner of the site's first-ever 10-week workout success challenge.
"Before the holidays, everyone goes crazy for workout and weight loss gimmicks that don't work - then they battle their waist all winter long," says Rasmus Ingerslev, CEO of Wexer.com, who founded the site to promote substance over quick fixes, and has seen membership spread to 90 different countries in the last six months.
Chatwood says, if he can do it, anyone can. In a little more than two months, Chatwood whittled 3 inches off his waist, gained an inch of upper body strength and shed 9 pounds - without a strict diet or crazy workout schedule. "I stuck to a balanced 40-30-30 diet: 40 percent carbs, 30 percent protein and 30 percent fat and I used a food log to keep track of what I was eating," says Chatwood, who admits cutting down on carbs really helped, but was the toughest part.
The lesson he learned: When the computer becomes a home gym, it's easier to get results. Chatwood combined body-shaping workouts that take minutes - not hours - to tone his belly, back, upper and lower body. His favorite Wexer.com classes: Strength Training, Bodytoning and Neck and Shoulders.
His secret weapon: "I relied on the kindness of strangers - I put myself out there online and I got a lot of encouragement from the group. I also helped other people. I'm not one of those guys who could have done this on my own," says Chatwood.
His workout strategy: Chatwood needed a program that would challenge him, without being a challenge to stick to. Using Wexer.com, he could log on any time to do his workouts, track his exercise, see his video recommendations, and chart his weight loss progress on his own personal profile. "The fitness instructors are only a click away and the personalized exercise video recommendations really helped," says Chatwood.
The next 'Terrific in 10' contest launches in January 2010 and according to Chatwood the 10 week investment in his body transformation was all worth it: "When I bought a pair of 34-inch waist jeans and got into them without sucking in my gut or anything else, I was over the moon. That was a happy day."
For details on Wexer.com go to http://www.wexer.com, follow CEO and founder Rasmus E. Ingerslev on twitter @ringerslev or send an email to rasmus(at)wexer(dot)com.
# # #