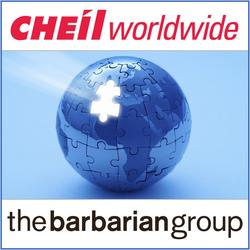 This deal demonstrates that the Asian advertising holding companies are now working to execute the same strategy by adding strong US capabilities through acquisition
New York, NY (PRWEB) December 3, 2009
M&A firm AdMedia Partners today announced that it acted as exclusive financial advisor to Cheil Worldwide in its acquisition of The Barbarian Group, the highly acclaimed award winning digital creative and marketing company.
"The large US and European agency holding companies have been adding capabilities in Asia for years as they have moved to serve multinational clients in all markets. This deal demonstrates that the Asian advertising holding companies are now working to execute the same strategy by adding strong US capabilities through acquisition," says Seth Alpert, Managing Director at AdMedia Partners. "Similarly, Dentsu, Japan's largest advertising agency, was reportedly one of the parties aggressively pursuing the acquisition of Razorfish, a $380 million revenue interactive agency that was ultimately acquired by Publicis earlier this year."
The acquisition of The Barbarian Group, known for creating such cutting-edge digital experiences as The Subservient Chicken and this month's augmented reality issue of Esquire magazine, is part of Cheil Worldwide's long-term growth plans. By joining one of the world's foremost digital creative powerhouses with Cheil's well-established global network, Cheil is poised to expand its digital creative offerings in the US and beyond.
Cheil Worldwide is Korea's largest marketing agency and the 16th largest advertising agency in the world, as ranked by Advertising Age. Established in 1973 with headquarters in Seoul, Korea, Cheil has 29 offices in 25 countries with close to 2,100 employees. Cheil offers a full portfolio of marketing communications services including advertising, digital, PR, sports marketing, exhibition and display production, and production of large-scale performance events.
"The concept of traditional vs. digital advertising is rapidly being replaced by the integrated solutions model demanded by advertisers in search of maximum ROI," says Frank Connolly, Managing Director at AdMedia Partners. "This acquisition highlights, as part of that trend, the continuing global demand for leading interactive advertising agencies," says Connolly.
About AdMedia Partners:
AdMedia Partners is a leading M&A advisor that provides middle market mergers and acquisition advisory services to digital and traditional media, marketing and information businesses. Founded in 1990 and located in New York City, the firm has completed over 160 transactions worth over $6 billion since 1999. For more information about AdMedia Partners, please visit http://www.admediapartners.com.
###