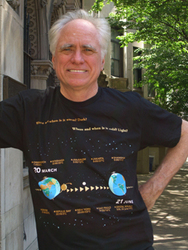 The world does revolve around you. But that's just so you can understand the science.
Ossining, NY (PRWEB) December 5, 2009
When Jinya, the 6-year old adopted daughter of Jonathan Fisher, could not understand why it changes from summer to winter (even though she seemed to understand why it's daytime back in China where's she's from, but nighttime in Ossining, New York, where they live), Fisher was inspired to create a lesson that would stick. After all, the retired transit professional had forgotten why himself, and figured there must be thousands, if not millions, of people just like Jinya and him.
"What if the sun were inside your body," Fisher wondered, "and the earth revolved around you, as on a tee shirt? If the earth maintained its same tilt all the way around, you would sense that the sun would shine directly on the northern hemisphere in June, and on the southern hemisphere in December."
And so beyondadornment was born, featuring its first tee design, The OrbiTee: http://www.beyondadornment.com. Fisher spent over a year creating a tee shirt that would make the point clear. In a transcontinental effort mirroring the tee concept, the 100% combed organic cotton, sweatshop-free, tees are supplied by a Los Angeles factory, marketed in Denver, screen-printed in Cleveland, and designed, labeled, and reviewed for scientific accuracy in New York.
The OrbiTee shows the earth in orbit around the wearer's body, showcasing its appearance at the summer and winter solstices as well as the spring and autumnal equinoxes. Local times and associated temperatures are shown for 20 places of interest around the world, something lacking in other visual explanations of the seasons. The position of the stars and moon is also shown with as much accuracy as the tee shirt medium allows.
People seem to like it a lot. When one model whom Fisher photographed for the website was told of the launch, she emailed Fisher "I'm so glad that the OrbiTee has finally launched. I've been wearing it around and getting lots of compliments, so now I'll know where to send people who might want to buy it!"
Fisher hopes to sell The OrbiTee through planetarium gift shops worldwide, as well as on the beyondadornment site. With tee shirt prices ranging from $2 to $75 or more, these tees occupy a middle range, reflecting double-side screen printing in 7-8 spot colors, 3-D effects on the adult size, and their ethical manufacture. "Buy one for someone close as a Christmas gift. When you then see it close-up, you may want to buy another for
yourself ," Fisher advises.
###