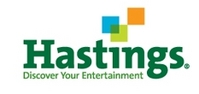 In celebration of the www.goHasting.com website redesign, we're extremely excited to give our customer's a special holiday gift that spreads a little more cheer this year.
Amarillo, TX (PRWEB) December 4, 2009
Hastings Entertainment, Inc. announced today a free interactive Yule Tool that enables a user to personalize a full-motion e-card video starring themselves and their loved ones in either a "Naughty or Nice" greeting, which is available at http://www.goHastings.com. The user can attach their own personal sentiment and send it to anyone they'd like via email. Created and developed by Capitola Media of San Francisco, California, the free Yule Tool e-card is designed to be a fun interactive way to celebrate the holidays.
"In celebration of the http://www.goHasting.com website redesign, we're extremely excited to give our customer's a special holiday gift that spreads a little more cheer this year," said Owen Marmaduke, Director of E-commerce at Hastings Entertainment (NASDAQ: HAST). "We are excited for people to be able to discover ways to be creative with our Yule Tool and spread "Naughty or Nice" cheer to everyone they know."
"Our goal with the Yule Tool application was really to design a holiday e-card that would stand apart from the crowd," said Chris Bunney, President of Capitola Media. "Working hand in hand with Hasting Entertainment's marketing team, we added whimsy and a touch of unexpected fun to the holiday spirit. We're looking forward to the customer feedback."
The Yule Tool can be accessed at http://www.goHastings.com or can be accessed directly at http://www.yuletool.gohastings.com beginning Tuesday, December 1st though January 2nd, 2010.
About Hastings:
Founded in 1968, Hastings Entertainment, Inc. is a leading multimedia entertainment retailer that combines the sale of new and used books, videos, video games and CDs, as well as trends merchandise, with the rental of videos and video games in a superstore format. We currently operate 150 superstores, averaging approximately 21,000 square feet, primarily in medium-sized markets throughout the United States.
We also operate http://www.goHastings.com, an e-commerce Internet Web site that makes available to our customers new and used entertainment products and unique, contemporary gifts and toys. The site features exceptional product and pricing offers. The Investor Relations section of our web site contains press releases, a link to request financial and other literature and access our filings with the Securities and Exchange Commission.
About Capitola Media LLC:
Capitola Media LLC is an advertising agency specializing in video and interactive creative services. From online ad campaigns and thirty-second broadcast commercials to Flash demos delivered via the Web, Capitola Media helps companies define, shape and create effective marketing and advertising assets. We bring a wealth of media, marketing and production experience to each and every project by creating entertaining and insightful visual stories that express the vision and success of our clients. Capitola Media is located in the San Francisco Bay Area. For more information about Capitola Media, please visit http://www.capitolamedia.com.
###