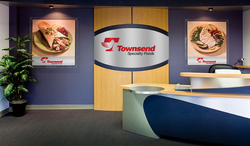 This new facility ... will afford [Townsends] the flexibility to better adapt to the changing market.
Atlanta, GA (PRWEB) December 9, 2009
Delaware-based poultry company, Townsends, Inc., announced the opening of its Atlanta business unit, Townsend Specialty Foods.
As part of CEO Tom Weisser's vision for growing business, everything about Townsend Specialty Foods is focused on providing innovative solutions and the highest quality further-processed poultry products and services to the foodservice industry.
The new Atlanta office not only provides Townsend Specialty Foods a strategic location to better grow and cater to its foodservice market, it will also house a new Innovation Center, slated to open in late December.
Like other companies in the food industry, Townsends has operated a research and development facility and test kitchen for years. However, the company now plans to shift its focus to product innovation.
"This new facility is positioned to significantly bolster the research and development capabilities of Townsends, and will afford us the flexibility to better adapt to the changing market, as well as to customer requirements for customized product solutions," Weisser said.
Despite the industry's challenging economic environment, Townsends has been successful in expanding its operations by targeting growing niche markets, appealing to evolving customer demands, and by focusing on sales and marketing, quality value-added products and customer service.
The new Townsend Specialty Foods Atlanta business unit and Innovation Center is proof of a poultry company on the move, driven by a strong devotion to service and excellence.
ABOUT TOWNSENDS, INC.
Townsends, Inc., a 118-year-old poultry company headquartered in Georgetown, Delaware, is a leading producer and marketer of quality poultry products. Family-owned and operated for three generations, the fully integrated poultry company supplies value-added chicken products to the domestic and international foodservice and retail markets. The company's primary distribution is through restaurants, foodservice distributors, retail, and export. Poultry operations are located in Pittsboro, Siler City and Mocksville, North Carolina as well as in Batesville, Arkansas.
For more information, visit http://www.townsends.com
###