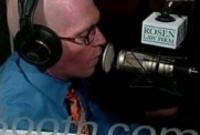 What's Your Holiday Visitation Schedule
Raleigh, NC (PRWEB) December 7, 2009
Divorce Talk Radio, a production of North Carolina family law firm, Rosen Law Firm, discuss North Carolina visitation and visitation during the holidays in, "What's Your Holiday Visitation Schedule". Every week, Divorce Talk Radio features current topics in family law and answers listener questions regarding family law issues in North Carolina.
In this episode, Raleigh divorce lawyer, Lee Rosen and Cary divorce lawyer, Scott Allen share tips for setting a holiday visitation schedule and look further into what conflicts can arise from unclear custody agreements. The team also gives advice on how to avoid the conflicts surrounding visitation during the holidays.
"Change is difficult and the holidays only come around once a year. It is important that parents facing divorce take the time to make a clear custody agreement surrounding holiday schedules," says attorney Lee Rosen.
About Divorce Talk Radio
Divorce Talk Radio is a free, professional resource available to everyone in the state of North Carolina. Hosted live every Wednesday at 11 a.m. Eastern time, Divorce talk Radio offers listeners the chance to call in and ask questions about any aspect of family law and get answers from a Raleigh divorce lawyer.
Divorce Talk Radio covers a range of topics that may arise in a family law dispute. Recent episodes include; "How Easy is a 'Do It Yourself Divorce'?", "Confronting your Wife's Boyfriend", "Who Gets the Kids?" and "Should I Stay or Should I Go?"
About Rosen Law Firm
With offices in Raleigh, Charlotte and Chapel Hill, Rosen Law Firm is one of the largest divorce firms on the East Coast. Founded in 1990, the firm is dedicated to providing individual growth and support to couples seeking divorce by helping them move forward with their lives. Our staff of attorneys, financial professionals and specially trained divorce coaches expertly addresses the complex issues of ending a marriage. Our innovative approach acknowledges that divorce is so much more than just a legal matter. Practice areas include child custody, alimony, property distribution, separation agreements and domestic violence relief.
For More information on Rosen Law Firm and Divorce Talk Radio, or for an interview, please contact Ned Daze at Rosen Law Firm.
Media Contact:
Ned Daze, Director of Public Relations
Rosen Law Firm
919-256-1558
http://radio.rosen.com
# # #