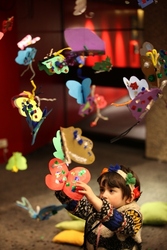 (PRWeb UK) December 4, 2009
The Barbican's annual arts extravaganza returns for a fun-packed, intellectually stimulating weekend of theatre, dance, music, film, food, visual art and spoken word. With scores of weird and wonderful ideas in the brew, the fourth Do Something Different Weekend is set to surprise and excite Londoners, kids and adults alike. Below are the highlights of what's confirmed so far - watch this space for more.
Participation - a key element of every Do Something Different Weekend - this time kicks off on a utopian scale with home sweet home by Subject to_ Change. Participants join in to build a cardboard community where anything is possible including property owning dreams (cardboard house-prices range from £1 to £3!). Interaction with new neighbours and the surrounding world is encouraged using amenities, a postal service, a notice board and even a local radio station. A ticket allows the participants to come and go over the Weekend to watch their community expand and take part in its street party on Sunday afternoon.
If building an entire neighbourhood is not enough, visitors can also have a go at animating a whole city. They can create their own buildings to add them to the growing mini metropolis and animate their own models to bring the bustle to the city street by street.
Somewhere else in the Centre, a cast of international dancers will be unveiling a dazzling and colourful contemporary performance, Bells by Akademi, honouring the traditions of Rajasthan and lighting up the Barbican foyers with their modern interpretation of Kathak and Indian dance styles. Later in the day, those interested can have a go at this evocative, rhythmic dance style when they join the Rajistani Folk Dance workshop, or fulfil their Bollywood-fame dreams by joining the Bollywood Dance workshop. The Asian theme continues at a workshop where Indian lanterns can be made and decorated and at another, colourful South Asian flower garlands can be made and worn.
For the first time at the Do Something Different Weekend, yoga bunnies can stretch their body and soul and join in for a yoga session, while those wishing to remain on their feet can get active and competitive playing the Ping Pong inspired by the work of architect and designer Ron Arad. To refuel, eastern culinary delights can be sampled at Searcy's Eat Something Different stand.
On the Barbican Theatre stage, visitors will be put through their paces when they join the Barbican's young World in Motion drummers. Members of the drumming groups Pulse and iCan lead this free workshop for families featuring original beats. More young talent can be heard at a performance by the Centre's very own Barbican Young Poets.
Later on the Saturday, from 6pm until late, the Barbican Lates series makes a special Do Something Different Weekend appearance with its signature after-hours fun.
For images and more information, contact Sarah Hefni, Media Relations Coordinator, on 0207 382 5274 or sarah.hefni (at) barbican.org.uk
Notes to editors:
The Do Something Different Weekend is part of the Mayor of London's East festival.
Some of the Weekend events are ticketed and/or by prior booking only, but many are free and/or on drop-in basis.
Bells by Akademi complements the musical spectacle showing in the theatre over the Weekend, The Manganiyar Seduction. In this colourful, uplifting and sensory show, acclaimed Indian director Roysten Abel brings together Muslim musicians from the deserts of Rajasthan and frames their music in a truly magical setting. Another performance which complements The Manganiyar Seduction is Man of Heart in The Pit; a multi-media solo performance on the life and times of Lalon Shah Phokir, the 19th century Bengali saint and song-maker regarded as the "King of Bauls" and whose fame stretches across the political and religious borders dividing Bangladesh and West Bengal in India. Man of Heart is directed by Suman Mukherjee and written and performed by Sudipto Chatterjee.
Home sweet home by Subject to_ Change was originally developed at Battersea Arts Centre.
During the Weekend, Barbican Art Gallery will be showing Ron Arad: Restless, the first major survey in the UK of the internationally acclaimed design maverick (18 February - 16 May 2010). In The Curve, visitors can experience the latest commission for free; an installation by Céleste Boursier-Mougenot which takes the form of a walk-though aviary for a flock of zebra finches, furnished with electric guitars and other instruments and objects. As the birds go about their routine activities, perching on or feeding from the various pieces of equipment, they create a captivating, live soundscape.
On sale mid January 2010 - Box office 0845 120 7550 – http://www.barbican.org.uk
###