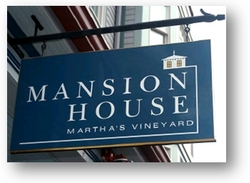 As American as Apple Pie
Boston, MA (Vocus) December 4, 2009
Local food is really local on the island of Martha's Vineyard in Massachusetts. To Vineyarders the world is divided into On Island and Off Island. Ask a school kid who just returned from a family trip to Italy, where he went and the answer is Off Island.
Everything not produced locally comes from Off Island. Once the crowds are gone, the beauty remains and so do people in need.
Most summer guests do not think that hunger is an issue on the Vineyard. But the local Martha's Vineyard restaurant Zephrus knows better. Year round, Zephrus offers a nightly dessert "As American as Apple Pie" and donates the proceeds to the Island Food Pantry. And since this is really about sustainability, every Wednesday is a Locavore dinner to benefit Island Grown Initiatives.
So far in 2009, this program has generated donations in excess of $8,000!
Zephrus Zeafood & Grill at Mansion House Inn offers community groups a delicious way to raise money. Island agencies can partner with Zephrus to raise money by picking and publicizing a specific winter date in which Zephrus shares 20% of the evening's special menu earnings with the group.
Why? After 25 years on Main Street, the owners of Zephrus and Mansion House Inn know that the Island is truly local. While proud of being a presidential playground, the Vineyard is a multi layered community. Many places are seasonal, but Mansion House Inn stays open year round and is proud to help their friends and neighbors keep the lights on and their bellies full!
Mansion House Inn and Zephrus Restaurant:
9 Main Street Vineyard
Haven, MA 02568
Mansion House and Zephrus are open year round and offer special island holiday packages.
For more information please call 508-693-2200
###