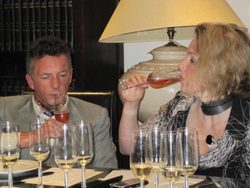 We believe that quality is our essence. Our independent producers make champagne with passion and exuberance, with traditional manufacturing methods rather than mass-produced on a large scale. And the proof is in the tasting!
(PRWeb UK) December 5, 2009
Presented by Maud Fierobe, founder of Frenchbubbles, and Patty Green, Champagne & sparkling wines expert, tasting will take place on Tuesday, December 8 from 6:30 p.m. till 8:30 pm at the Yacht. Built in 1927, this luxury 130ft steam yacht is being restored to its former elegance. Moored at Temple pier, a short distance from the Houses of Parliament, where the City meets the West End.
Our tasting events are always informal but informative, relaxed and interactive!
Buy your seat now online at http://alturl.com/7h3n. Cost is £30 per person and it will includes welcome reception and guided tasting of a selection of five unique premium Frenchbubbles Champagnes.
At Frenchbubbles we specialise in supplying an authentic product, a champagne like no others, reliably sourced from established family-run vineyards, all of whom belong to the Association des Vignerons Indépendants, a small and exclusive grid of Independent wine makers.
Our product cannot be found in local supermarkets. Not only in fact we partner uniquely with that wine makers that belong to this association, but among these we work only with that producers who have received glowing reviews in la guide Hachette, the reference for all wine produced in France, and have been awarded in different champagne tasting.
If you want to know more visit our website http://www.frenchbubbles.co.uk. We propose a very comprehensive portfolio of exceptional champagnes from different producers for you to discover and choose the one you like the most. They are perfect for any occasion, whether it would be for corporate events, weddings, small gatherings or a simple aperitif.
###